APS score more national sporting victories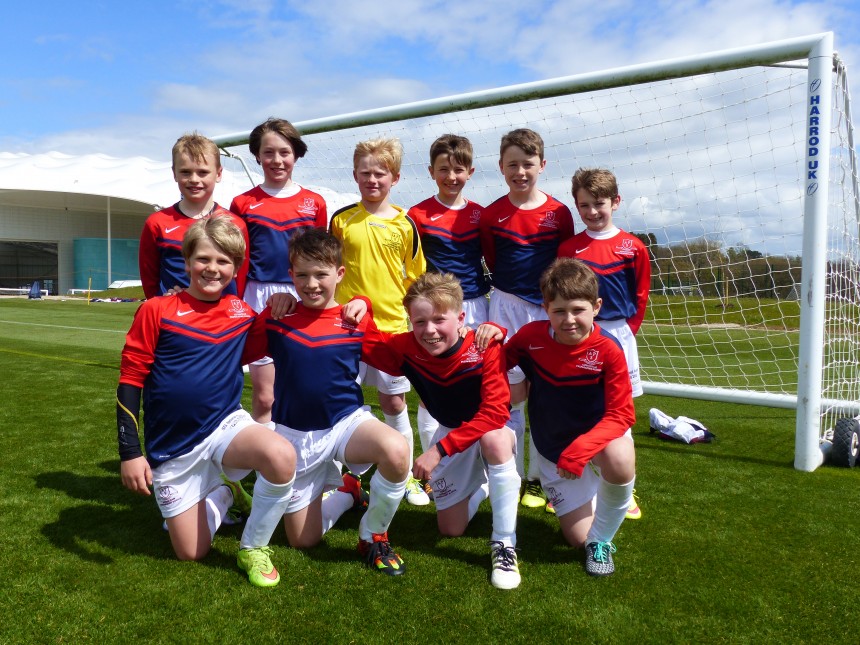 APS can now call itself one of the best footballing schools in the country after coming third in the prestigious ISFA National Finals at St George's Park - the home of the England football team - last week.
Arriving at the incredible new National Football Centre in Staffordshire after qualifying as Midlands U11 Seven-A-Side Champions, the boys were amazed at the quality of the pitches and facilities, which host some of the world's finest football teams. And they soon settled down into a steady rhythm with two 0-0 draws in the group phase against Clifton College (Bristol) and Gatehouse School (London). After a creditable 2-0 defeat to eventual finalists Ludgrove (Berkshire) - who had the outstanding individual player in the competition - APS needed two wins from the final two group games to progress to the quarter finals.
And when Ethan and Ben scored APS' first goals to secure a 2-0 win over Cranmore School (Surrey), the boys knew the final group game against Lingfield Notre Dame (Surrey) was crucial. They produced their best performance of the competition, a beautiful team passing move ending in a fine goal from Bobby, and Michael sealing a place in the quarter finals with a neat finish right on the final whistle.
It wouldn't be a national finals competition involving APS without some penalty drama, and it came in the quarter final against The Elms (Derbyshire). After neither side could find a breakthrough, the match went to a penalty shoot-out, with both teams excelling themselves. But goalkeeper Steven - who said afterwards that it had been really "nervewracking" - made a great save to set up Bobby, who kept his nerve to score his penalty and book APS a semi-final place in their first National Finals.
Playing on St George's Park's "Alan Shearer Pitch", APS soon knew they were up against a good side in Whitgift School (Surrey), who took an early lead. Displaying the team ethic and hard work that had got them so far in the competition, APS managed to equalise through an own goal, but two quick fire Whitgift strikes early in the second half were enough to secure the eventual ISFA winners a 3-1 victory.
So it was off to the third/fourth place play-off for APS, and a familiar Cheshire derby against King's School Macclesfield. With both sides tiring after a long day's play, the game finished 0-0 and the schools decided to shake on a share of third rather than put the boys through another penalty shootout.
"We did a lot better than I thought we would," said Ethan at the trophy presentation ceremony afterwards. "The pitches were amazing, and it's a big honour to come third."
"Playing at St George's Park has been fantastic," added Will. "And actually, the only games we lost all day were to the two finalists, so it's been a great experience."
Head of PE Mr Birch was delighted with the efforts of the boys. "It would have been easy for them to get disheartened after not scoring in the first three games, but the boys stuck to their task and worked as a team. In the end, they played some lovely passing football, scored some good goals and best of all, they really enjoyed playing at St George's Park.
"We did really well - to be third in the country is a good achievement."
To read the full ISFA National Finals report, click here
Image Gallery