APS Sportsmen Triumph in Football and Rugby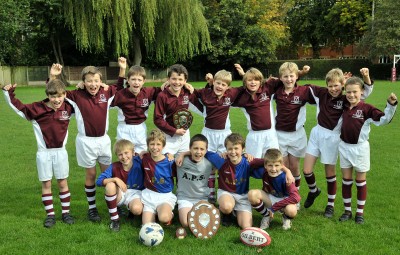 Round ball or oval ball, Altrincham Preparatory School sportsmen have triumphed in top regional competitions.
The round ball brigade won the King's School Macclesfield North-West Schools 7-a-side football with a series of gritty yet fluent performances.
APS beat Bolton 1 – 0, Bury 2 – 0 in the round robin stages, but had lost 2 – 0 to a strong King's Macclesfield side.
In the semi final APS beat Terra Nova 1 – 0, only to come up against their previous nemesis King's in a tense final this time beating a physically imposing team 1 – 0 thanks to a clinical strike from Tom Hack and a determined defensive display.
APS's rugby players were not to be out done winning the Plate competition in the Sedbergh School's under-11 tournament with the versatile Hack, now playing as a sniping fly half, posting the winning try in a 12-0 win.
APS Director of Sport Nigel Birch said: "We want to introduce our boys to as many competitive sports as possible and develop their fundamental ball skills and fitness levels. We have developed a strong network of local and regional fixtures and have many arch rivals that we always enjoy testing our mettle against."