Owls swoop into APS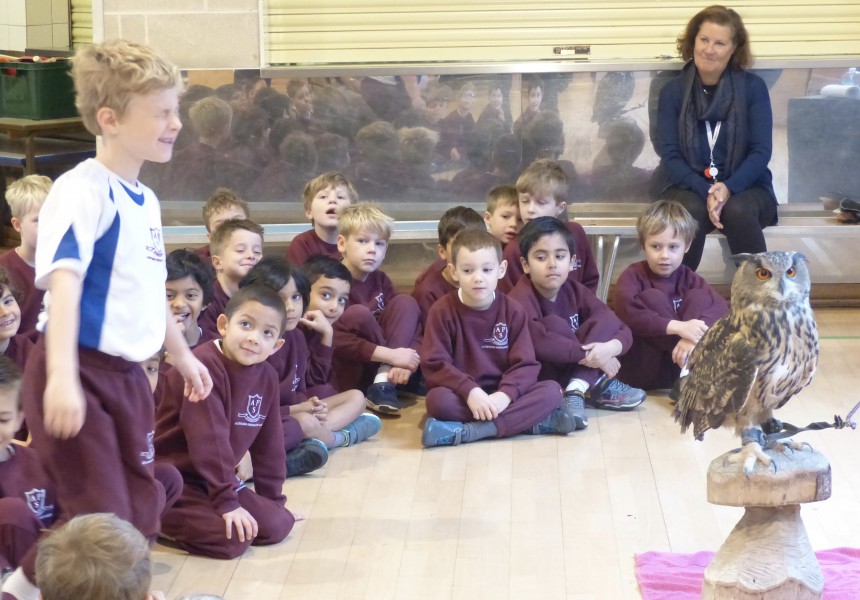 Year 2 boys became wise owls last week when a captivating visit from a bird of prey rescue centre gave them the chance to learn, watch, appreciate and even hold a number of different owls.
From Poppy the tawny owl to the magnificent eagle owl Willow, each bird was introduced to the awe-struck boys by Wayne Auty from Wise Owl Bird Of Prey Rescue Centre in West Yorkshire, who explained their habitats and personalities as well as the importance of looking after this remarkable species.
His final trick was to ask the boys to lie on the floor as a Harris Hawk swooped across them in search of food. "It flew really fast over us," said Harry. "But it was amazingly quiet too."
"It was a pleasure to see the boys so enthused by the birds, as well as being so respectful of them," said Mr Auty. "Visits like this are really important as it keeps the boys in touch with nature and reminds them that birds of prey are something to embrace rather than be afraid of."
"This direct, hands on experience is one of the best ways of learning," added Year 2 teacher Mrs Hyland, fresh from holding a tawny owl herself. "What they learn from this hour stays with them, and it's added to as they investigate more."
All of which was underlined by Finlay. "What I never knew is that it's only the tawny owl that has the famous twit-twoo call," he smiled. "And even then, twit-twoo is actually two owls calling and responding to each other. It was fascinating, and I'll definitely be listening out for more owls now."
Find out more about the Wise Owl Bird Of Prey Rescue Centre's work here.

Image Gallery