World Book Day brings together youngest and oldest APS boys in a love of reading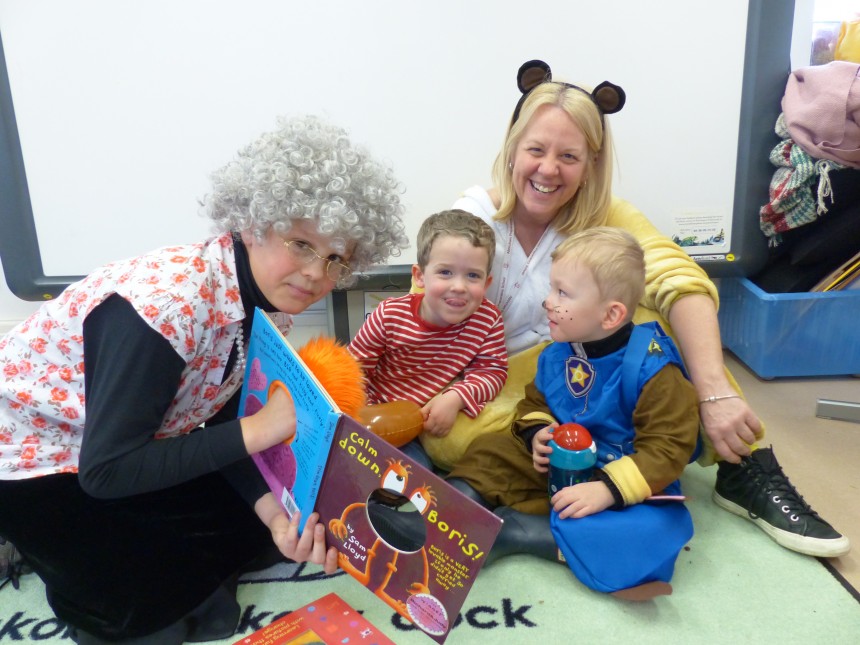 Altrincham Preparatory School turned into a Wonderland today as Year Six boys read to Nursery, Pre-School and Reception classes as part of the World Book Day celebrations.
Each Year Six boy brought a book that had meant something to them as children to read to their younger counterparts, while everyone came to the school's state of the art EYFS building at Bank Place dressed as their favourite literary character.
Max, from Year 6, was in polar bear costume to read Piers Harper's Snow Bear's Surprise to George. "I just loved this book as a child," he said. "It's actually a really good skill to be able to read to younger children and I've really enjoyed the afternoon."
As for George, dressed as the Big Bad Wolf because the book he most likes listening to at home is Three Little Pigs, it was a chance to "go into a different world" when he reads a story.
It's not often that Draco Malfoy from Harry Potter and Peter Pan are in the same room, but that was the case when Year 6's Eavan read Lucy Cousins' Hooray For Fish to Nicholas from Pre-School. "It's a really colourful book, it teaches children about shapes and it's also really entertaining," said Eavan. "It's really good to be read to," added Nicholas. "I like Peter Pan because of all the silly pirates".
"One of the really beneficial parts of this afternoon is that it makes the Year 6 boys remember what they first loved about reading," said Deputy Head Lindsay McKenna. "The boys have been talking about their favourite books endlessly and it's great that they can share that enthusiasm with the younger boys."
With APS's thriving nursery also taking part - William from Year 6 reading Calm Down Boris dressed as Gangsta Granny to Leo and Henry - World Book Day was genuinely a chance for the youngest and oldest boys to come together in a love of books.
"The younger ones really look up to the Year 6 boys," said Pre-School teacher Miss Kelly. "It's not just about sharing a love of reading, either - with the boys dressed up and bringing in their favourite books, it's really about revelling in the wonder of storytelling."
Image Gallery