The Junior School - Marlborough Road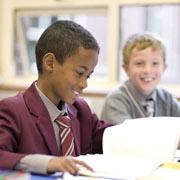 At age 7+ the boys move on to the Marlborough Road site. At this stage we would expect all our boys to be well beyond the demands of the National Curriculum Key Stage 1 tests.
With sound academic foundations and good working habits having been developed in the Infant School, we expect boys to make good progress in the Junior School.
Although we concentrate on the core subjects of English, Mathematics and Science, in which boys will be tested at 11+ for the various entrance examinations, we also seek to broaden their education and their experience.
We have specialist experts in all the other main subject areas: History, Geography, IT, Music, Art and Craft.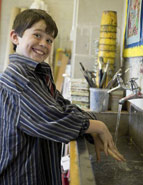 We regularly seek to give classroom work a relevance to real life and plan a wide range of educational trips across the region to museums, the theatres, stately homes and interesting geographical and geological sites.
We also offer trips abroad with an optional French trip on which boys experience a different culture and are encouraged to practise their language skills.
Computing and Science are taught in half groups in the Junior School, enabling us to give more individual teaching attention, particularly when teaching practical subjects.
The McCay Library, named after our former headteacher Mr Ron McCay, is well stocked with a wide range of academic, biographical and fictional works and boys are encouraged to use and enjoy the facility.
In the final year, boys are carefully prepared for the requirements of each secondary school's entrance examination.
Because we believe an APS education is more than sufficient, we do not feel special coaching is necessary. However, within normal classes the top two forms are meticulously prepared for the demands of each examination with past papers and a critical appreciation of their examination technique.
Special help is given to parents with the choice of secondary school and application procedures, with the headteacher and other senior teachers enjoying long-standing, productive, professional relationships with the Heads of the major secondary schools.
When we recognise that a child needs special support, we have two special support teachers, one at the Infants and one at the Junior School, who work on an individual basis to develop academic skills.
About APS
Search the Site