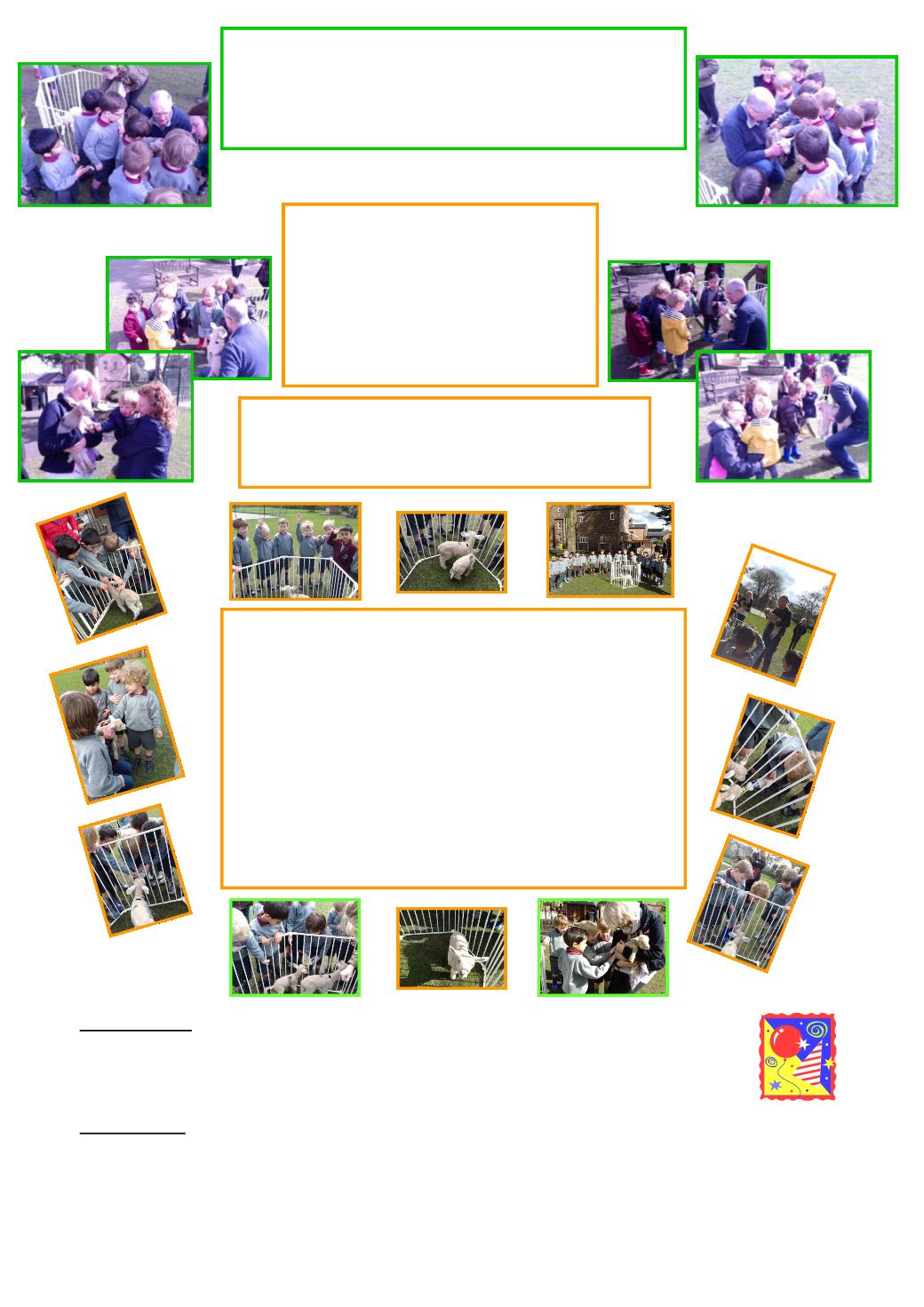 In Pre-School:
Well done to all the Pre-School boys who have received 'Star of the Week' this term! We are so
proud of the boys and their achievements this term in all areas of the EYFS.
Happy 4th Birthday to Harry Law.
In Reception:
MERIT BADGES: Well done to Haris, Joe, Billy, Peter, Alexander, Aidan B-M, Ted and Joseph (RMT)
Andrew, Oscar, Liam, Haroun, Aidan K, Ariyan, Thomas and Francisco (RH).
Also, Happy 5th Birthday to: Franklin, James S, Joseph, Joshua and Joel (RMT) and Ishan M, Jasper,
Thomas, Angus, Isaac and James H (RH).
We hope you all have a lovely Easter holiday and we look forward to a fabulous Summer Term…
Spring, New life and Lambs
Bell Field
Following Nursery and Pre-School, the
Reception boys had the chance to feed the 4 day old lambs. In
turns each boy held a milk bottle and watched how the hungry
lambs drank all the milk. They then were shown how baby lambs
dive out whilst being born.
After a wonderful discussion the boys were quick to find out
more and asked some great questions!
Did you know that baby lambs teeth begin to show as soon as
they are born!
After thinking about Spring and new life in our Science and R.E.
lessons the boys have really leant a lot
with this hands on encounter.
Thank you Farmer John from Sugar Brook Farm
for a fantastic experience!
Farmer John visited APS this term with
some special visitors... two little lambs! The
Nursery and Pre -School boys were so ex-
cited to see the lambs and had the
opportunity to touch and stoke them. All
the boys enjoyed learning new facts and
listened to Farmer John with great
attention. A lovely way to introduce new
life to the youngest of our EYFS boys.
Early Years
Nursery,
Pre School and Reception