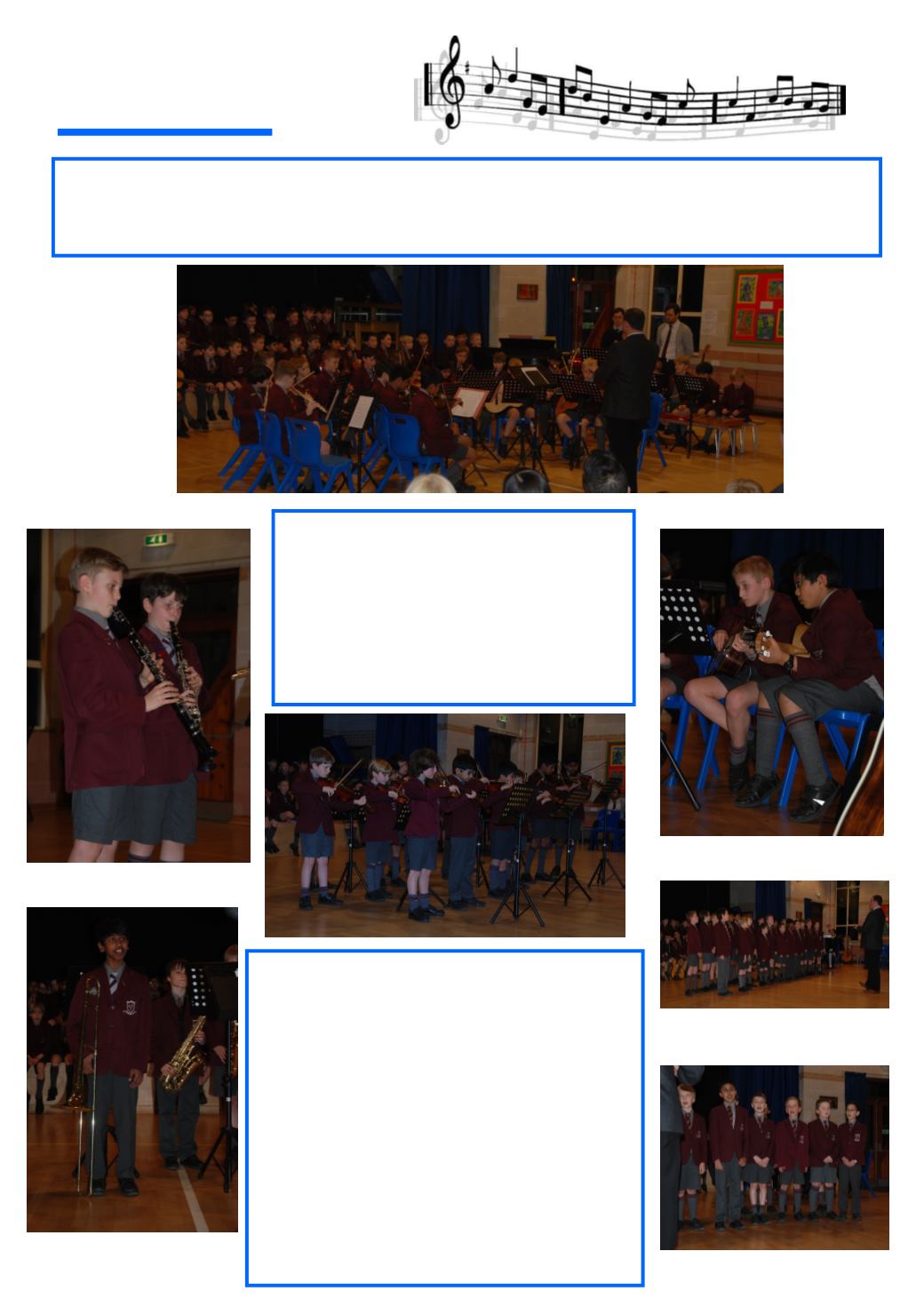 Music
The musical activities began this term with the Bowdon Music Festival which involved the Senior Choir and many solo-
ists from the Juniors. The Choir competed against seven other choirs and was awarded Second Place by adjudicator
Steven Roberts. The soloists also did very well with Ben Wood, year 6 being placed third, Anoop Jois, year 4 placing
second and Rory Hobbs, year 6, placing first in their individual classes.
All three choirs performed in the Altrincham Music
festival and whilst this is not a competitive event,
the boys received some hugely positive feedback-
from the adjudicator. We held an exam visit from
the ABRSM and all the boys achieved high grades
in their instrumental exams. Thanks must go to Mr
King, Mr Price, Miss Sheldon, Mrs Goss and Mr
Harper for their hard work in preparing the boys.
Towards the end of term, we held the Junior Music
evening where we were treated to performances from
the Junior and Senior Choir, Guitar Group, String
Ensemble, Wind Group and the School Orchestra. All of
the boys played wonderfully and gave interesting and
committed performances. Our Easter Service was a
particularly enjoyable morning. The Junior boys gave a
touching performance of the Lord's Prayer in an original
setting which made use of their French lessons with
Mrs Hammond. The infants gave a very lively rendition
of Brand New Frame of Mind and the EYFS performed
Out of the Cave with staggering confidence. Mr Potts
had selected text from Emily Bronte which I put to
music for the whole school to sing; a perfect end to a
busy term.