Welcome to APS
The Head Master of Altrincham Preparatory School, Andrew Whittaker, welcomes you to APS and gives an overview of the school.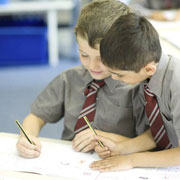 When parents come to Altrincham Preparatory School, some of the first people they speak to are the boys themselves. We don't prepare the boys, or tell them what to say. The image of a personable, happy young boy who can engage in conversation, present himself effectively and speak confidently says everything about the school we are and our belief in nurturing the range of specific talents boys have.
At APS we believe in delivering excellence, but not in any narrow, targeted sense. We celebrate diversity both in the community and the curriculum. So naturally, we want to be an academic school – and our results show that is the case. But we're also a sports school with two dedicated PE teachers delivering a wide variety of games, a music school, a language school and an arts and technology school, all of which are taught by specialist teachers. It's up to us to encourage our boys to discover their passions and skills. My responsibility is to deliver that for every boy at APS.
The greatest pride is taken in the culture of engagement and participation. The boys want to be part of everything, from sports' teams to choir, orchestra and the School Council, because they know they are valued and have an important contribution to make. All boys should have the opportunity to excel and represent the school in some way, because the school is about the boys, and all our decision making begins by considering what is right for them.
So why is a single-sex boys' school better for your son? The answer is simple: boys develop at different rates to girls, and learn in a different way. At APS, we don't expect boys to sit in rows for hours on end and absorb received wisdom - our whole curriculum is based around being active, capturing imaginations and engaging with them. Our teachers are passionate about the successes the boys enjoy within the school. Their approach means our boys develop flexibility, creativity and adaptability – they're not processed automatons who can only be effective in the exam room.
So please take the time to look around the website and get a glimpse of what life is like here. That, however, is just the start. We encourage you to come to Altrincham Preparatory School for yourself and get a feel of this happy, healthy school where boys can have the security and space to learn, grow and develop.
I look forward to welcoming you.
Andrew Whittaker
Headmaster
Early Years Nursery at Bank Place Prep Prep
Providing outstanding nursery provision for only 16 boys at any one time, the APS Nursery is open for approximately 48 weeks a year, from 08.00 to 18.00 and provides flexible hours within that time.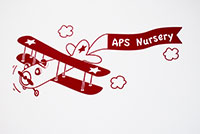 APS is dedicated to nurturing confidence and excellence, welcoming boys in to the APS family at the start of the academic year (September) after they are two years old. Together with Pre-School and Reception, the APS Nursery is situated at Bank Place, providing a safe, happy and caring environment for the boys throughout their early years education.
The APS Nursery has received heartfelt testaments from parents who are delighted that their sons have had the opportunity to receive the very best start to their education.
During inspections, the EYFS Inspectors have provided excellent feedback which recognises that the boys are nurtured in a setting which provides learning opportunities for the children to explore, changing to reflect the interests of the children and their developing abilities throughout the year.
Mrs Cassel BA (Hons) Early Childhood Studies, leads a fully qualified and experienced staff. Nursery parents praise the care for the boys as individuals, knowing that their sons feel safe, secure and valued in their environment. The boys develop confidence by becoming independent and the nursery staff have encouraged this through play based activities along with small group learning times.
Our boys love the outdoors with Bell Field providing a natural expanse of learning opportunities and exploration. It has been wonderful to see the boys run free throughout the seasons.
For all enquiries please contact the school office on 0161 928 3366 or email nursery@altprep.co.uk
Nursery Dates 2019 - 2020
No Nursery or Holiday Club 23 December 2019 - 1 January 2020
Nursery and Holiday Club - to book as required 2 and 3 January
School reopens Monday 6 January 2020
February half term - to book as required - Monday 10 February - Friday 14 February
Easter - to book as required - Monday 30 March - Friday 3 April
No Nursery or Holiday Club 6 April 2020 -10 April 2020
School closed May Bank Holidays Friday 8 May and Monday 25 May
Summer Half Term - to book as required - Tuesday 26 May - Friday 5 June
Summer Holiday - to book as required - Monday 13 July - Friday 14 August (School Year ends)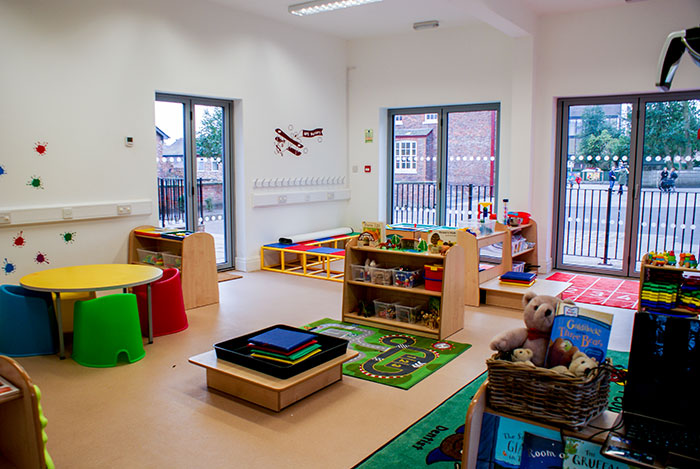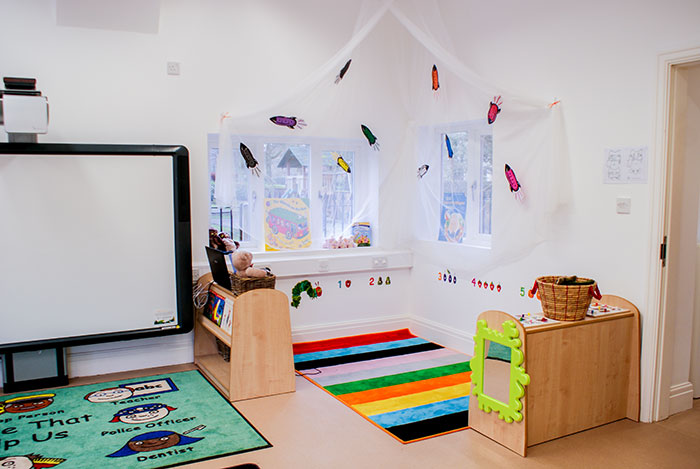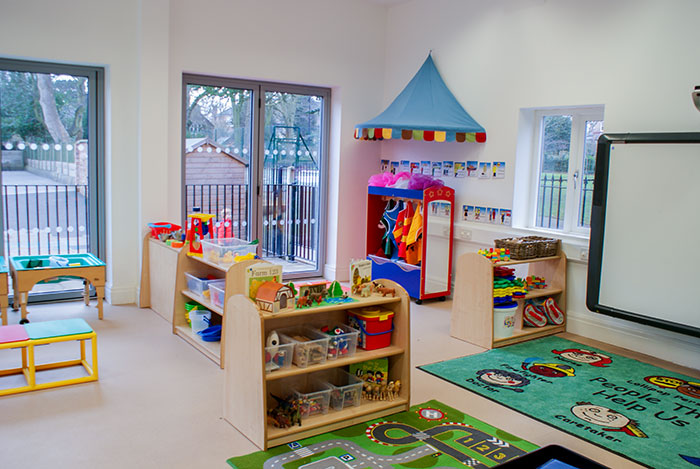 Early Years PreSchool and Reception at Bank Place Pre Prep
Getting boys excited about going to school is a guiding principle for APS. It starts as soon as they walk through the door for the first time, with fresh air learning, art days, messy play or reading and storytelling all part of the school day.
Bank Place is our new Early Years Foundation Stage Centre of Excellence in a completely refurbished and redesigned building right next to the Pre Prep School at Highbury and is home to Nursery, Pre School and Reception.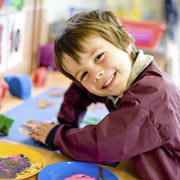 With the early years, it's about building the foundations for the rest of their education. If we can have happy children who want to come to school, that will underpin the rest of their lives. So we like to get them busy and excited about learning.
The move to Bank Place certainly helps this. We have exclusive access to the adjacent Bell Field, a private walled park, so we can explore some of the ideas of a "Forest School". This is a part of our curriculum where children can learn personal, social and educational skills in an outside environment. After all, that's what boys love to do: we can get them outside, involve them in lots of practical investigations, and make learning fun. It all feeds into the idea of functioning as a fabulous, friendly place to learn.
We're right up to date with the latest teaching methods at APS. We follow the EYFS curriculum which was updated in 2012 and while it focuses on personal, social and emotional development, the physical aspect of learning has been given far more prominence - which for a boys' school is perfect.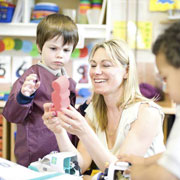 If you encourage enthusiasm in boys, then naturally they want to be involved in everything, even if they make mistakes along the way. We have an atmosphere of acceptance and encouragement at APS - and if things go wrong, it doesn't matter.
For example, every year we have a Mothers' day celebration. The boys stand up in front of their mums and say very proudly why they love their Mums, and bring them a drink and a biscuit. It's a lovely afternoon, of course, but there's a wider point to it - these boys are able to articulate their feelings publicly. We give them the capacity and room to verbalise their thoughts, feelings and ideas.
Parents, visitors and teachers all say that both the Pre-School Early Years Centre at Bank Place and the Pre Prep School at Highbury feel like an extension of home, and that is lovely to hear. It's certainly how I feel - my vision for Early Years at Bank Place is that we have this fabulous new Centre of Excellence, full of happy, healthy boys who just love coming to school to work and learn.
Pre Prep at Highbury: Years 1 and 2

Anyone who visits Highbury at West Road, home to boys in Years 1 and 2, will immediately notice the unique family atmosphere and excitement around learning.
Jan Bacon, Assistant Head, Key Stage 1, explains why a teaching style rooted in how boys learn is essential for our pupils.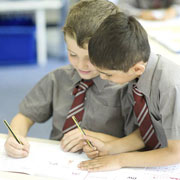 "As I think everyone knows, boys like to do things. They don't want to sit and pore over a worksheet about magnets, they want to see how they work. So everything we do at APS is based around engaging the boys with direct experience - after they've played with the magnets, then we'll give them challenges and answers to questions.
That's how you move the knowledge of pre prep boys forward: you can't be static. Boys are very passionate and contrary to what most people say, we find they love learning - and the more you encourage that, they lap it up even more. It's fantastic to experience actually - at that age they're like sponges.
One of the things we're good at here is developing the idea that the boys are all part of a team, and so we set the idea in motion that it will be exciting to have a go at playing, for example, the recorder or the violin with their friends. They can join all sorts of clubs at school: art, chess and puzzle club, gardening, Lego and board games, guitar group, table tennis, dance, speech and drama, choir... the list goes on and on, and I have to say the boys love being a part of these groups. It's about giving them the opportunity at quite a young age to find their niche, and what they can celebrate being good at.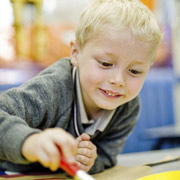 Of course, we do want our boys to develop academically too. To me, the National Curriculum is just the bare bones to ensure minimum standards. We go way beyond that, to make sure everything we do is building on learnt experience. I'm passionate about reading and writing, so it's truly great being with the boys and watching them develop their skills.
But we also want them to blossom as young people - it's often forgotten that young boys can be quite sensitive.
So we make sure we get to know these boys, which means you always find new ways to captivate them, both inside and outside the classroom. It's all about teaching the awe and seeing the wonderment."
What the boys say
"I came to Altrincham Prep School in Year 2 and it was very easy to settle in. When a new boy comes everyone helps them make friends. It's a really great school like that."
"There are so many interesting subjects and we learn about them in a really fun way."
"Some of my friends from other schools don't take part in sport like we do until they are in Years 5 or 6. You start straight away here."
Prep School at Marlborough Road - Years 3 and 4
At the beginning of Year 3, APS boys move from Highbury to the purpose-built Prep School at Marlborough Road, and the crossover from Key Stage 1 to 2 is a crucial period in their development.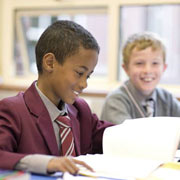 We're not only in charge of delivering a captivating curriculum and high quality teaching, our role is also about monitoring the progress each individual boy is making. Every boy that comes to APS has to feel that the school is there for them. Whatever they want to achieve they can here - whether that be in academia or sport, music or art.
You can't stand still in education: for the boys' sake you have to be forward-thinking. So the way we teach is different to a mixed school because we recognise that boys want to be involved in their learning and be more hands-on. So everything we do is about sparking the boys' interests; they can soak up an awful lot if they've had their imaginations captured.
Our trips out to the wider world certainly help with that. In Year 4 we go to a series of live-action history days to link in with our history topics on the Tudors and World War II, for example, and we find that those fascinating experiences stick with the boys when they're back in the classroom.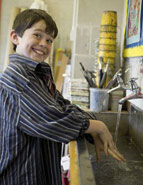 Academically we are strong - lots of our boys go on to do very well at grammar schools across the North West. It's also important that the boys develop their broader personalities, and we often hear people say they are well behaved and get on with each other. That's not a coincidence: we encourage them to belong to choirs, get involved with sports teams, take part in lunchtime and after school clubs. So because the boys are busy, because there are no lulls and because they have to work together, they understand the benefits of working hard and playing hard.
At APS, we're also supportive of boys who perhaps find some elements of their school life difficult. We do assess the boys when they come here, but it's not an entrance examination, it's a process by which we can make sure they are given the right, targeted attention and education.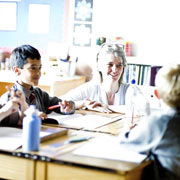 We have small classes, which is fantastic, but we also have support teams who come in and make the classes even more focused: it's about giving the boys the opportunity to make the best of themselves and pushing them to their limits. For some, that means introducing them to work they will be doing at grammar school, and we do reward academic excellence at Speech Night, but we also celebrate those who have displayed a fantastic attitude and approach to their school life.
Thanks to the work that has been done at APS over the years, there is now a particular attitude apparent in our boys: they always give 100 per cent, no matter what they're doing. That could be writing a story, working out sums in maths or out in the football field - they are always committed to doing their best wherever they are.
What the boys say
"I really liked the trip to Stockport Air-Raid Shelter. We were acting out being evacuees and dressed up - it was so interesting seeing how people lived in the past. Horrible, actually!"
Prep School at Marlborough Road - Years 5 and 6

APS strives to do everything possible to ensure that the boys are prepared for life after they leave the school, so Years 5 and 6 are pivotal.
For Deputy Head Lindsay McKenna, this key stage in a child's development is all about providing flexible, enjoyable learning which brings the curriculum alive.
"Everything we do is to serve the boys and meet their needs as ambitious individuals and as a year group. While we're naturally mindful of the National Curriculum framework, our curriculum is specially tailored to develop the boys intellectually, so that they have the best possible preparation for the secondary school entrance examinations. To this extent we go way beyond comparable state education.
Throughout their time at APS, the boys have their education brought alive for them both by our classroom teaching and the many trips, excursions and extra-curricular activities we provide. Years 5 and 6 are no different: they learn valuable life skills on residential trips to the Lake District and Northern France. Likewise, in Year 6, once the exams are over the boys put on a play for the parents and wider community. But it doesn't exist in a vacuum - we tailor the topics they study with the issues that might come up in the play.
Such experiences mean that it's the boys who make APS what it is. It makes the day worthwhile when you see them achieve something they couldn't before, and they're a pleasure to work with. We take some credit for that because everything is about motivating and captivating them, but I have to say, there's something very positive - unique, actually - about this school. These are well-rounded, personable and polite boys developing disciplines that will carry them through life.
This is my first experience of single sex education as a teacher. I'm a complete convert. The boys gain so much from being with other boys. They are always trying to be the best they can be, to achieve the best results they can, but not at the expense of each other. There's no jealousy here and they celebrate each other's successes in a way I haven't experienced before. It's just a fantastic place to be."

What the boys say
"The best thing about going to school here is definitely the variation in the subjects. You won't just learn Maths, you'll understand it in an exciting way."
Sport Overview

There aren't many schools with two full-time, specialist PE teachers.
Head Of PE, Nigel Birch, explains what makes sport at the school special.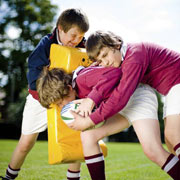 "I genuinely believe that no other school compares with us, both in the results we achieve in competitive games and the variety of sports we offer. We don't want to be solely a "rugby school", a "hockey school", a "football school" or a "cricket school": there was one week recently where boys took part in national hockey finals on the Monday, rugby 7s finals on the Wednesday and a regional football tournament on the Friday. We did very well at all of them.
Having two specialist PE teachers really helps the boys. We see them right through from pre-school to Year 6, so we can see them develop, we know what they need, and they know us, too. It means we can organise them well and get them to use their natural ability.
At APS, we have access to some fantastic sporting facilities. We play hockey, football and cricket on Bowdon Club's state-of-the-art aquaturf. We also have our own grass playing field, play tennis and football at Bell Field, and use the indoor hall at our Marlborough Road site.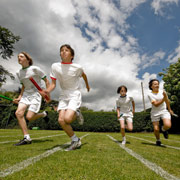 We believe it's crucial that every boy represents APS in an individual and team sport. Everyone gets their chance, which the boys - and the parents - love. The way we play sport at APS is bound up in that sense of participation, teamwork and enjoyment - every sport we play involves bringing someone else into the game. Irrespective of result, we always celebrate the collective effort rather than individual achievement, and the boys are taught to play competitive sport with a sense of fair play.
I haven't even mentioned kwik cricket, tag rugby, quicksticks, athletics or swimming. There is the opportunity for the boys to play all these different sports and still reach national competitions and experience the pleasure of doing their very best for the team. Just one look at our sports fixtures and results will show you the breadth of what we do."
What the boys say
"I love coming to school here because of the sport. Cricket is my favourite, but you get to do all the sports, which is really good. We've just been in a rugby tournament but we did a bit of long jump today too."
"To be honest, I know that I'm not the best at sport, but I was still able to play and represent my school. It's great when you get to do that.
"If you get in really early you can even play table tennis before school!"
What the parents say
"It feels like there's a sport for everybody, and the staff will put themselves out for the boys, encourage them and take an interest in them. It's about saying to them "you can do it" and it's been great to see my boy blossom because of that."
"I actually went to a hockey tournament APS qualified for. They didn't end up winning it but the pleasure and pride the boys - and the teachers - got from merely taking part was something else."
Music at APS
Hannah Bateman joined Altrincham Preparatory School in 2019 as Director Of Music and was immediately amazed by the number of boys learning instruments, singing in choirs and playing in ensembles.
She explains why APS' unique atmosphere of participation, encouragement and excellence is reflected in its music provision.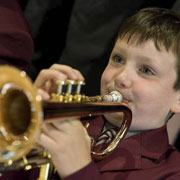 As Director of Music, I am responsible for the planning and teaching of curriculum music from Pre-School through to Year Six. The breadth of opportunity we have here is quite astonishing and it is rare, in my experience, for a preparatory school to have so many boys involved in music. The reasons for this I think are twofold; a team of dedicated and highly skilled instrumental teachers and an ethos of inclusion.
We have three choirs, Infant, Junior and Senior, none of which are auditioned. This does not however, affect the quality. Instead we work hard with the boys to obtain the highest possible standards. This is demonstrated by our recent competition success; our Senior Choir was awarded first runner up in a recent Carol Competition which spanned the North West and Wales and we have also placed second in two more local music festivals. These successes have been recognised and we have consequently been invited to perform at Manchester Cathedral as well as with Altrincham Choral Society.
There are also many opportunities for boys to expand their instrumental experience in ensembles. We currently have a Wind Group, Guitar and String Ensemble as well as a full school orchestra. We encourage boys to join these groups as early as possible and we take time to write bespoke arrangements so that we can support those who have just started and stretch those who are very skilled.
In the classroom, I keep two things at the core of what we do; correct use of the voice and having a thorough understanding of how music notation works. Singing is the easiest way to access music so we spend a lot of time properly warming up the voice to help us to project it correctly. This goes far beyond singing in choirs. Being able to use your voice effectively is an incredible powerful tool and as these boys progress through school and into the work place, being able to exploit this strength of communication will be invaluable.
I am forever meeting people who were put off music at school because they did not know how to read it. At APS, right from pre-School, the boys use Kodaly, Solfa and Dalcroze Eurhythmics, all of which help the boys to internalise pitch and understand rhythm through the use of movement. It means that by the time they reach year 3, they can read music and understand the rhythms easily; the obstructions are removed. This then allows us to explore the music in more depth, play it on a number of instruments whether that be recorder, glockenspiel or drums and more importantly, enjoy it!

What the boys say
"I love playing the drums, but there's string group, guitar group, recorder group... you can try whatever music you want really."
"I play the piano and saxophone, but there's such a variety of music to learn you can basically pick from a long list."
"I've really enjoyed learning the guitar and piano. I can see how much I've improved and it's made me so much more confident when it comes to playing in groups."
What Our Parents Say
We are lucky to have the support of parents committed to giving their sons the best possible education.
So what do they think of the school? Three mothers, Claire, Tammy and Katie, explain why sending their boys to APS has been "nothing but a great experience."
On sending their boys to a single-sex school:
"We moved from Canada three years ago so the concept of a boys only school was a foreign concept to us, but it was explained really clearly how boys learn differently. In Year 2, my son told me he was learning multiplication, and he had to jump up and down on one leg as he recited the tables! But boys need that, they're so full of energy. Seeing how they've developed, I'm completely convinced by boys schools now."
"You look at all the boards around the classrooms and it's gory medieval feasts with eyeball stew, and it's great. You just know your boys will love it."
"It's interesting actually, APS still put on plays, and offer drama and music - which might be more of a focus for the girls in a co-ed school. Here it's all part of the mix."
On how APS has changed their boys:
"My younger one found it quite hard following his older brother, but APS encouraged him to feel that he could really do things in his own right. He's really blossomed and flourished."
"My oldest has grown in confidence here, without a doubt. He was always a little bit quiet and anxious but we've seen him blossom year by year. He's in Year 2 now and he's so confident. That's not just in the school environment - but he definitely learnt it from school."
"My older one was quite shy and quiet, so in the first parent-teacher interview we had, half-way through the year, I told them this. The teacher said: "Really? He's not like that at all!" And now he's so much more comfortable in himself. The boys are friendly and the environment in the classroom is very supportive. There's no teasing."
On what makes APS special:
"There's a huge emphasis on academic study of course, but personal growth is also is really important: manners, politeness, and being the best boy you can be. That's a healthy balance, and the teachers are really loving and caring towards the boys, which is great."
"My boys have had more opportunities here than I hear about at any of the schools my friends' children go to. I've got two sporty boys and they're also quite musical. But if you don't do sport there are so many other things you can do."
"There are traditional aspects to the school which I do like. Mr Potts wants polite, confident boys with good manners who are able to work in a team. And aside from the school's academic qualities, with the sport music and art provision, the teachers really do seem to go the extra mile for them."
On the most important people at APS: the boys.
"You do really notice that the boys are happy. They never, ever, say to me "I don't want to go to school."
"At the beginning of the summer term, we were all at the gates but the school wasn't open yet. And when they finally did open the gates, all the boys went running in, cheering! I'm sure that wasn't the case at the school I went to - we were cheering when we left! They were champing at the bit to get in and learn."
"Seeing the boys in Year 6 at Speech Night and how articulate, focused, well mannered and confident they are is something to behold. They really are a great advert for the foundation in life APS has given them. The best thing we can do for our boys is to give them a good start in life and they definitely get that here."
The History of APS
Altrincham Preparatory School is one of the most respected and famous schools in the area founded in 1936 by a group of masters from the neighbouring Altrincham Grammar School.
In the 1930s, the Grammar School on Marlborough Road enjoyed a strong relationship with a primary school called "Bowdon College", based at College House on South Downs Road. The College was a boarding school with day boys. The owner of Bowdon College, a Mr Smith, died in the early 30's and in the summer of 1935 his son announced that it was his intention to close the school.
Parents at the soon-to-close Bowdon College and also the Grammar School were very concerned about the lack of primary provision in the area, and asked the Headmaster of AGS Mr Walter Hamblin for help. Four of his senior teachers William Crabb, Arthur Hill, Edward Mason and Alexander Sherriffs founded a junior school in the form of a limited company for 5 to 11 year olds. Original shareholders included Lord Stamford as well as Messrs Hamblin, Crabb, Hill, Mason and Sherriffs.
The school opened in September 1936, with a total of 23 boys.
Over the years, APS has expanded and grown, buying the Highbury building in 1950, building the present day Marlborough Road site in 1997, and most recently the complete renovation of Bank Place adjacent to Highbury as our Early Years Centre of Excellence. There are currently around 340 boys at APS.
The Board of APS
Of the seven serving Directors, four are sons or grandsons of the original 1936 founders, and there are two great grandsons currently pupils.
There have been only five Chairmen since 1936: W Hamblin (1936-1944 approx), E Mason (1944 - 1976), A Hill (1976-1982), A E Hill (1982-2013) and A R Hill (2013-present).
The Directors' profiles are available on our staff list.
Headmasters
Gaskell, P A. 1936-1939. First Headmaster of APS, but called up to the forces in 1939
Hartington 1939 - 1946. Mr Hartington was Headmaster through the Second World War
Mason, Edward 1946 - 1966. Mr Mason was one of the original Board, and served in a dual capacity as Chairman and Headmaster from 1946-1966.
Thomson, John Reginald Sept 1966 - 1971. At his appointment, Mr Thomson stated he would serve five years before retirement, and he resigned in July 1971 for health reasons.
Leigh J Sept 1971 - July 1975. Mr Leigh left APS to take up a Deputy Head post at Berwick on Tweed Senior School.
McCay, Ron J Sept 1975 - 1997
Parris, Eileen V Sept 1997 - July 2000
Potts, Andrew C Sept 2000 - 2018
Whittaker, Andrew M Sept 2018 - present