A Christmas Wish comes true at APS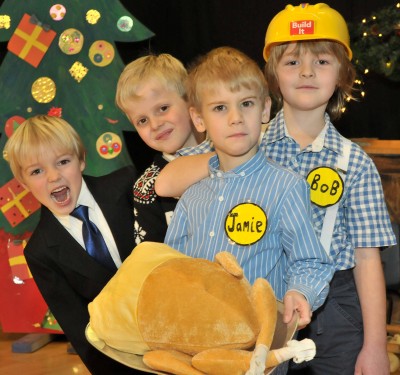 Christmas cook Jamie Oliver and friends turned up in Altrincham Preparatory School's Christmas Play as Director of Music James Pearson staged a premier of his festive musical 'The Christmas Wish'
Our hero played by Jamie wishes for a star for the top of his Christmas Tree and goes on a journey of unexpected surprises to complete his Christmas décor, encountering not only Jamie Oliver and Bob Builder on his travels but also having to counter the disciplinarian of evil uncle Jasper.
APS Director of Music James Pearson said: "Every child in the infant department has an important part to play in what is always a joyous end of term celebration which marks the start of the holiday season."
Pictured from left to right are: APS young actors Theo, Charlie, Lucas and Jamie.
Performances dates are 13 Dec and 14th Dec, 10am at Marlborough Road.