APS Art Exhibition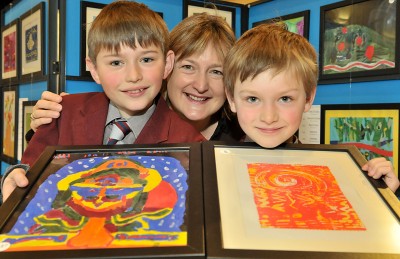 Altrincham Preparatory School pupils felt the thrill of exhibiting their own art work in a full school exhibition.
Organised by Images School Art Exhibitions, the APS event saw over 320 paintings framed and mounted for friends and parents to admire as every child in the school took their turn.
One family had been particularly excited by the event with eldest son James (10) displaying a work based on aboriginal themes and Edward (8) presenting his block print based on the patterns found in beach shells.
Proud mum Lucy from Hale said: "There's been a lot of excitement in our household this week, with James, Edward and our youngest son William, all incredibly eager to see their paintings in an exhibition. I didn't know which one to look at first," she smiled.
APS Art Teacher Alison Woodage said: "The exhibition showed the wide range of art pupils experience throughout the school and illustrates their exploration of new techniques and different media. Seeing their work displayed so beautifully encourages them to take on the creative challenge and achieve their best."