APS boy graded British No.2 at National Taekwon-do Championships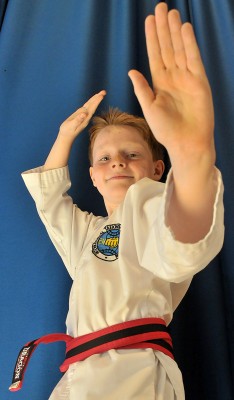 Altrincham Preparatory School's Ethan is celebrating after being graded British No.2 in his age group for taekwon-do sparring at the National Championships in Stratford-upon-Avon last month.
"It was a really hard competition, mainly because most of the boys I was sparring with were 12, said Ethan, 10, who is currently in Year 6 at APS. "So to be able to come away from the tournament saying that I'm the second best in the 10-12 age group - well, I had to pinch myself to believe that it was real. I felt really happy."
Ethan has been involved in martial arts for six years now, ever since his father took him down to the Hale and Bowdon Taekwon-do Club. "I knew immediately it was my favourite sport," he said.
And Ethan only went to the competition as a requirement for the black belt grading he's aspiring for: one of the stipulations is taking part in a national tournament. "I take the grading next May," he said. "And then hopefully I can continue to do well in national competitions. Taekwon-do teaches you to be the best you can be, so that's what I'll try to do."
Image Gallery