APS boy wins national illustrated story competition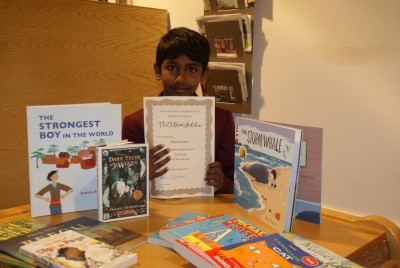 How's this for a good story? Year 5 boy Sheen is celebrating after winning a national illustrated story competition for children between nine and 13 years old.
The Children's Bookshow, in conjunction with writer and illustrator Jessica Souhami and supported by The Independent newspaper, asked children to retell a famous story in an extraordinary setting, using pictures and words. After sifting through exactly 100 entries, Sheen's sci-fi version of The Three Little Pigs, featuring robo-pigs and a green alien wolf, impressed the judges the most.
"I'm really excited to win," said Sheen. "I like reading mythical sci-fi fiction stories, so I'd been working on an idea to do a version of The Three Little Pigs set in that kind of world for a while."
Sheen's prize was a signed copy of all the books from authors involved in The Children's Bookshow 2014 tour, as well as £150 worth of books for the APS school library.
"I'm looking forward to reading the Daniel Morden book," said Sheen. "I listened to him read once and it really inspired me. I've got about five or six stories I've started writing at the moment, so maybe over the summer I'll finish some of them."


Sheen says he hopes his success will encourage more boys to write stories.
"You've got nothing to lose, and it's so enjoyable to do," he said. "I'm going to give a lot of the books I won to my younger brother, so maybe he will be inspired too."
Image Gallery