APS Boys enjoy a Tudor Christmas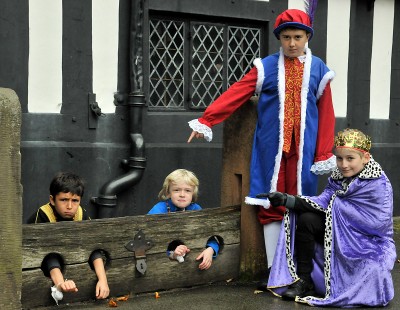 Henry VIII and his trusty lieutenant show little mercy to the local miscreants as Altrincham Preparatory School pupils enjoyed a Tudor Christmas during a living history day at Bramhall Hall.
The young men relived yuletide celebrations dating back 500 years, though the local rascals also get a taste of Tudor discipline as they were locked in the stocks.
APS's young historians enjoyed a tour of the 14th Century Manor House and met the Lord and Lady, seeing what life was like both upstairs and downstairs.
At the heart of the day were the preparations for Yuletide, the Tudor version of Christmas held in deep mid winter.
Just as in Tudor times, the boys had to wassail their own entrance into the hall and then sing in the entrance of the Boar's Head, the Yuletide treat, before the introduction of the North American turkey.
Mr Sheppeck, APS Class Teacher, said: "The Bramhall Hall Living History Day is a fantastic learning experience. Becoming part of the fabric of history always enhances the boys' understanding and Bramhall Hall is just one a many fabulously preserved buildings steeped in history in our area."
The boys have also been learning about King Henry VIII and his fall from athletic sportsman to embittered wife killer.
Pictured from left to right are Zac, Shay, Jake and Daniel.