APS boys fill rucksacks for the homeless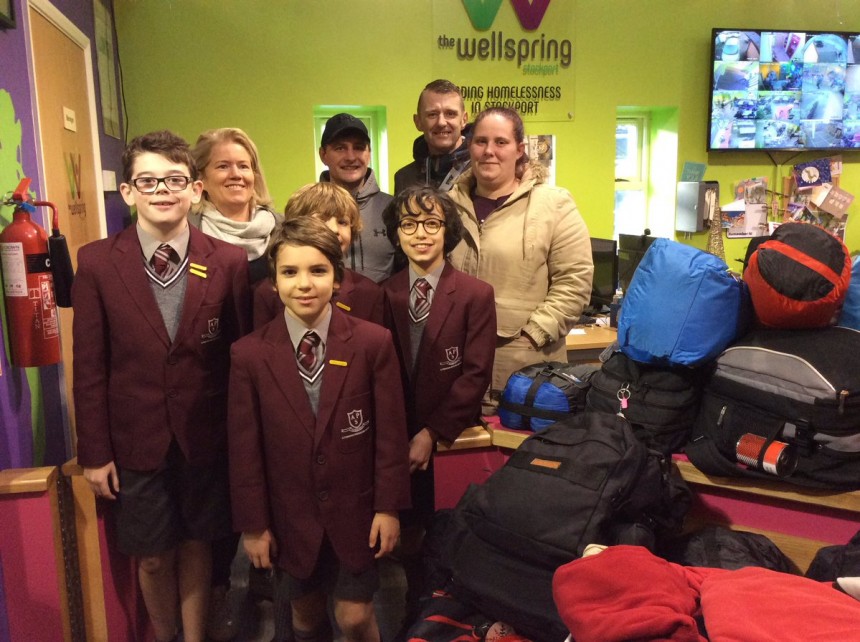 An everyday trip to the shops for an Altrincham Preparatory School parent has led to a hugely successful charity campaign in school which will directly help the homeless this Christmas.
"I was walking to the supermarket with my son and we came across a homeless person," remembers Mrs Aston. "He asked me why the man was in a sleeping bag. I tried to explain, but it's quite a hard concept to get across to a four year-old boy."
Nevertheless, Mrs Aston began thinking about ways to encourage her child to understand the importance of thinking about others. She came across The Rucksack Project, an initiative supported by The Wellspring charity for homeless people in Stockport. Participants are simply asked to fill a rucksack containing warm clothing, tins of food, a sleeping bag and a flask, which is then distributed to homeless people and rough sleepers.
"Because you have to go around ticking the items off your list, it's a really good way to get children involved and understanding a little bit more about the plight of homeless people," says Mrs Aston. "First of all we did it as a family, but when I mentioned it to the school earlier this year, they were happy to back a wider campaign and involve all the boys."

Mrs Aston has been thrilled with the results; last week 20 rucksacks were taken by APS boys to The Wellspring in Stockport, a charity funded by donations and supported by a staff of volunteers who feed 120 people a day, 365 days a year. With shower facilities, clean clothes and the offer of medical services from doctors and nurses, The Wellspring fulfils a hugely necessary function.
"The contributions have been fantastic and will make a real difference," says Iain Kelly, who co-ordinates The Rucksack Project in his spare time. "It's not just about the actual contents of the rucksacks either, what the campaign actually does is start a conversation with homeless people, who then might use The Wellspring to get off the streets."
The boys admitted to feeling really affected by what they learned at The Wellspring, too.
"If someone's lost their home and it's not their fault, they can't help being on the streets," says Jonah, from Year 6. "We don't understand how much they're suffering, and they don't have the kind of life we're lucky to enjoy. The Wellspring was such a warm, friendly, welcoming place."
"It's made me feel differently about people I might see on the streets," agreed Henry. "It makes us as a school community feel really lucky."
Mrs Aston admitted to feeling really touched by not just the amount of rucksacks the boys were able to gather together, but how The Rucksack Project has engaged the whole school. "Even the little ones at Highbury have really thought about the homeless," she says. "Where we live is a very privileged area and I hope The Rucksack Project been an important part of their learning and development."
Find out more about The Wellspring and how to support their work
Image Gallery