APS boys keep quiet for World Book Day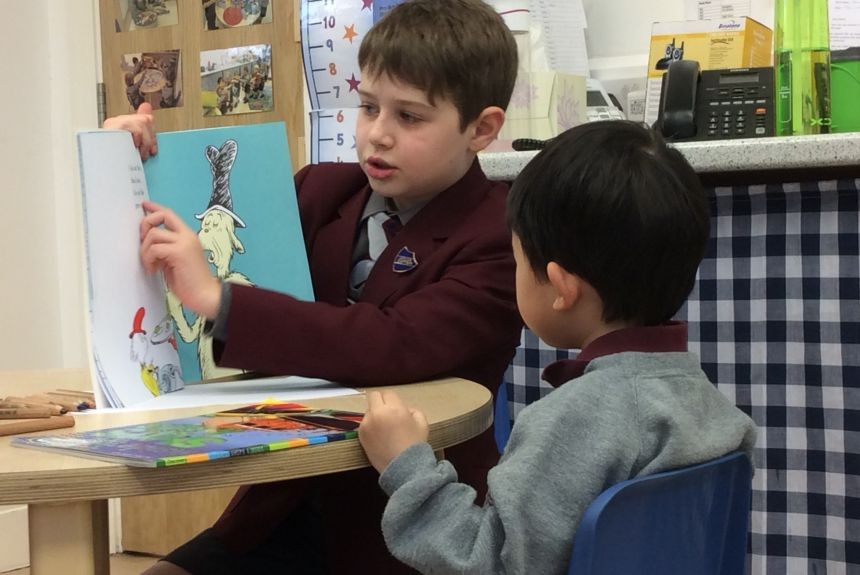 Boys at Altrincham Preparatory School kept quiet for World Book Day yesterday, taking part in a sponsored silent read which raised thousands of pounds for children less fortunate than themselves in India.
Every class from Nursery through to Year 6 quietly read their favourite books for as long as they could manage. The proceeds will go direct to the Don Bosco schools in Goa, which help disadvantaged children and teachers. "It's really exciting - this will buy reading books for these two wonderful schools," said Assistant Head Mrs Bacon.
As part of the World Book Day celebrations, Year 6 also read classic children's books to APS Pre-School boys. "I loved being read The Gruffalo by Louis," said Matthew. "I think it's a book you can like whatever your age."
Deputy Head Mrs McKenna was really impressed by the atmosphere in the Bank Place classrooms as the Year 6 boys read books from their own childhood - such as The Snail And The Whale and the Hungry Cat - to the pre-school boys.
"They loved the opportunity to share a love of reading with others, but it was also about setting an example and perhaps remembering their own childhood and what books meant to them when they were much younger," she said.
"From the youngest to the oldest, I just think opportunities to share books really instills a love of reading at the school," added pre-school teacher Miss Kelly. "And the pre-school boys really look up to Year 6. It's lovely to see."
For more on APS's world book day activities, have a look at our scrapbooks here and here.