APS boys learn the value of First Aid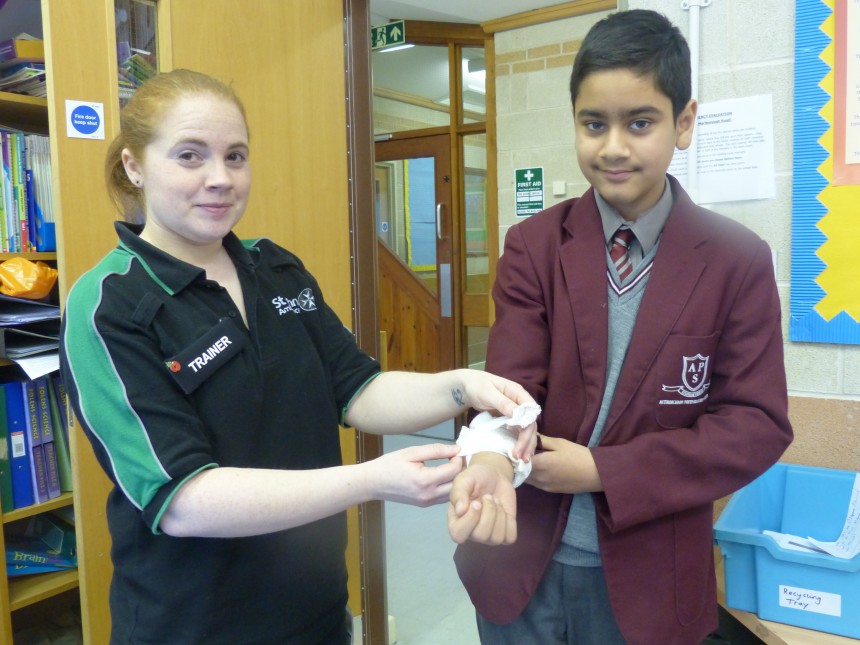 "You might go around thinking, 'I'll never use first aid on someone.' But inevitably lots of people end up needing it. It's really important that children can call on their own first aid skills."
That was the important message from St John's Ambulance trainer Kathryn Bagshaw, who has spent the last week teaching Altrincham Preparatory School boys everything from how to assess a serious situation to treating a nosebleed, effective bandaging to the correct recovery position.
"I have to say the boys did really well," she said afterwards. "They came up with really interesting questions and answers, and who doesn't love bandaging!"
Mrs Bagshaw said the main aim was to give the boys confidence to take responsibility for someone in need - in both serious and minor situations. "They've learned some life-saving first aid - and I hear amazing stories of how children have helped save lives all the time, so I know that they are old enough to learn these skills and take them in," she said.
"This is about giving the boys confidence to make judgements. That's not just about understanding what an emergency might be and when to call 999 and so on - it's also about what they can do to help. If you don't have that confidence or skill, you'll just panic."
Altrincham Preparatory School Deputy Head and Year 6 teacher Mrs McKenna was similarly impressed by the attitude of the boys towards First Aid.
"The St John's Ambulance visits are really valuable," she said. "Not only do the boys learn life-long skills, but it also encourages them to be confident individuals. Perhaps most importantly we're trying to nurture responsible citizens who, should the situation ever arise, can help people in need."
Ali, from Year 5, certainly had a fresh understanding what would be required of him in an emergency situation. "Say you called 999 but the ambulance wasn't going to arrive for 10 minutes," he suggested. "You need to know how to keep someone breathing, put them in the right position and most of all be ready to help."

"If any of our brothers or sisters needed us, we could help out now," added Lucien, from Year 6.
Fellow Year 6 boy Patrick was surprised by how easy the bandaging was, but the final word was left to Isaac from Year 5.
"Learning to look after people when they have injuries is so important," he said. "We learned loads."
Image Gallery