APS boys sing carols for residents of Handsworth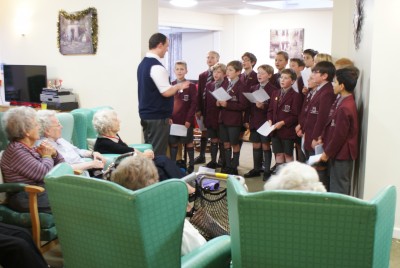 We Wish You A Merry Christmas took on added meaning for Year 6 boys at Altrincham Preparatory School this week as they sung carols for residents at the Handsworth Care Home in Bowdon.
Singing seasonal songs and hymns such as O Little Town Of Bethlehem, Silent Night, Away In A Manger and, of course, We Wish You A Merry Christmas, Handsworth's Activities Co-ordinator Jane Forshaw said the boys had truly kicked off the festive season.
"This is a special moment for our residents," she said. "They love to try and keep young and the boys being here singing for them means that for a short time they can focus on pure enjoyment. I hope the boys realise that by coming here they're lifting the mood and spirits of everybody at Handsworth."
In fact, the solo in Away In A Manger had some reaching for the tissues.
"We've all been in raptures," said Jean Payne. "It brought some of us to tears."
"And it was such lovely singing," added Maude Campbell. "Fantastic and excellent."
The boys enjoyed the experience just as much as the residents, too.
"This was all about making them happy and giving them some Christmas spirit," said Charlie. "So I'm really pleased we came."

"I think we made their day," added James. "That's a really good feeling."
The visit to Handsworth Care Home is just one of a number of community activities Altrincham Preparatory School participates in during the run-up to Christmas. APS Deputy Head and Year 6 teacher Lindsay McKenna thinks such events are beneficial for everyone.
"It was quite emotional seeing the reaction the boys got from the residents at Handsworth," she said. "Christmas is a time to think about others, and I know the boys felt privileged to be able to perform for them."
Image Gallery