APS football team rub shoulders with the very best in two prestigious finals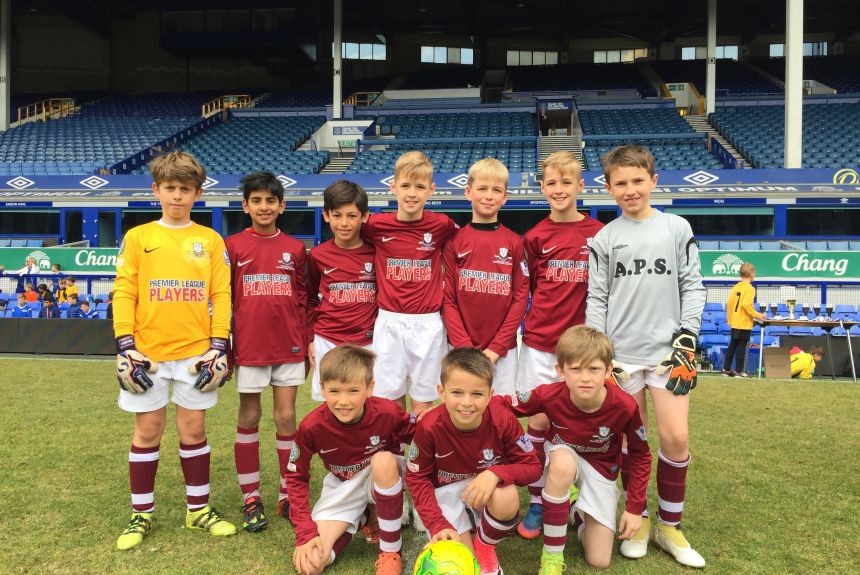 The chance to play on the same pitches as some of the world's best footballers doesn't come around too often. But Altrincham Preparatory School's boys have experienced the thrill twice in ten days after taking part in the ISFA National Finals at St George's Park and the Cross Partnership Schools Finals at Everton's Goodison Park.
It was the second time in two years the boys have qualified for the ISFA National Finals at the FA's stunning training facility, used by every England national team. In an exact repeat of last year, APS did magnificently to finish third after a narrow defeat to Whitgift School in the semi-finals.
"It was probably my best experience of the whole year," said Jack from Year 5. "It was just amazing to play at England's training ground and we came up against some really skilful players - apparently some of them were in Chelsea's U11s."
"We stuck together as a team though and got some really good results because we passed the ball and got our shots away when we could," added Tyler.
The boys had an immediate chance to go one better at Goodison Park just days later. After qualifying for the finals at Everton's Finch Farm training facility, they had the opportunity to play at one of the most historic stadiums in world football as part of Everton Football Club Academy's Cross Partnership Schools Finals.
In fact, the boys' determination and teamwork meant they won their semi-final this time, progressing to a final against Blackmoor Primary from West Derby in Liverpool.
"We could play some really good passing football at Goodison," said Tyler. "We even scored an overhead kick in the semi-finals!"

Even though APS eventually lost in the final on penalties, Anoop said it was his favourite part of the day. "I loved the excitement of it," he said, clutching his runners'-up medal.
Head of PE Mr Birch said it was the boys' teamwork which had earned them the chance to make lifelong memories.
"They have really impressed me with their desire to play passing football as a team," he said. "It's paid off: they fully deserved to reach these finals and in the end, running down the tunnel and on to play on a Premier League pitch is what the boys dream of."
Image Gallery