APS Hockey team prepare for National Finals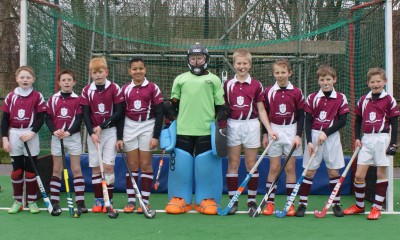 Altrincham Preparatory School's victorious hockey team is making its final preparations for a prestigious national tournament next week, after a stunning performance at the Independent Association of Prep Schools' (IAPS) Regional Qualifying Round meant they progressed to the IAPS U11 Hockey Finals.
The team overcame schools such as Stamford, Solihull and St Olave's in the group stages at Repton School, Derbyshire last month, conceding just one goal in the process. The boys then held their nerve in three consecutive 'penalty shuffles' in the knockout phases, including in the final against Bromsgrove.
"This is a great chance for the boys to test themselves against some of the best teams in the country in their age group," said PE/Games Master Mr Birch. "It's been a gradual progression: we're starting hockey much earlier now and the boys are really developing their skills. This isn't just one good year group - we've got to the finals three years out of the last four."
Mr Birch puts some of this success down to the facilities APS boys enjoy: they play and practice on Bowdon Hockey's pitches, some of the best in the north-west of England. "The APS boys come down here from reception onwards to have their games lessons," he explained. "It means they can concentrate on improving their skills and teamwork rather than worrying about the surface."
The team itself can't wait for the finals on Monday, which take place at Wellington College in Berkshire - they've even had special hooded tops made for the occasion (pictured below). "We played really well at Repton, combining some good defence with nicking a goal here and there to keep us on track," said Luke. "So we're really looking forward to Monday - I'm not going to say we'll win it, but we're hopeful of a good final position."
But if goalkeeper Alex can repeat his feat of conceding just one goal in ten games, they might have a chance against some of the very best hockey-playing schools in the country.
"I have to say, the penalty shuffles at Repton were really tense, and I was happy with some of my saves," said the APS stopper. "But what really kept us going was that we played as a team, we didn't get cocky. This has really been a team effort."
To get live updates on APS' fortunes on Monday, follow @altprep on twitter.
Image Gallery