APS Hosts Annual Reading Competition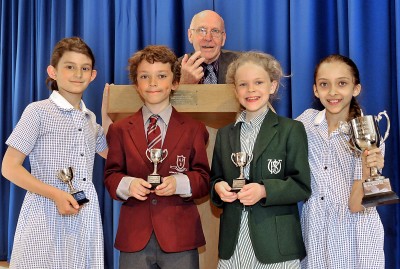 Young readers were word perfect when Altrincham Preparatory School staged an annual reading competition.
The triangular event also featured Alderley Edge School for Girls and Wilmslow Preparatory School, with orators form Years 3, 4, 5 and 6 all reading for adjudicator and local thespian Mike Donohue, prolific local children's writer Diana Shaw and the Headmaster of Altrincham Grammar School for Boys Tim Gartside.
The overall winner was Scarlett, 10, from Alderley Edge School for Girls, who recited a passage from "A Dog Like No Other' by John Grogan.
Scarlett had this advice for would be public speakers: "You must express yourself clearly, speak slowly and, above all, speak loudly so people can hear."
"I was very nervous to begin with and had done quite a lot of rehearsing in front of my mum and the mirror but it really didn't prepare me for an audience, but I just got up started slowly and strongly and actually began to enjoy it."
APS Headmaster Andrew Potts said: "It takes a lot of courage and bravery to stand in front of an audience and is a vital skill to acquire for later in life. We want to start building our pupils' confidence and self esteem as soon as possible."
Local amateur thespian Mike Donohue said: "It was simply a joy to listen to all the children read and I was extremely impressed by their exceptional delivery. We were looking for good expression, intonation and fluency and above all an expression of their enjoyment of the piece."

Pictured with judge Mike Donohue are from left to right are Year 6 winner Maggie from AESG, Year 4 winner Naom from APS, Year 3 winner Anna from WP and Year 5 and overall winner Scarlett from AESG.