APS Old Boy Cycles from London to Paris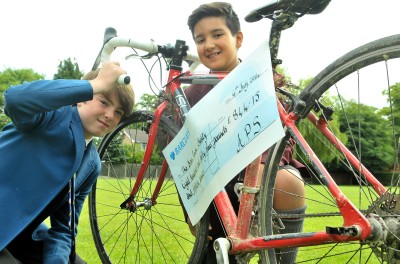 Marathon cyclist former Altrincham Preparatory School pupil Ollie Stevenson returned to his old school after riding from London to Paris to in aid of the Brain Tumour Charity.
Now a Year 9 pupil at the King's School in Macclesfield, Ollie, 14, was at the Marlborough Road site to thank his former school mates for raising £847.15 for the neurological charity.
Last weekend with father Jon and grandfather and uncle Jon and David Cowan, the family foursome had ridden the 370km in just three days, spending over 40 hours in the saddle and taking three overnight stops en route. They even rode unaided without a support vehicle in torrential downpours, taking all they had to survive in their cycle packs. The men were raising money to honour Ollie's aunty Caroline who tragically died of a brain tumour last November aged only 28.
Giving the APS boys a mini lecture on his exploits and taking part in a quick fire question and answer session, when asked how he felt at the end of his marathon, Ollie, from Hale Barns, said: "Sore, very sore, but also proud to have done something in memory of my aunty Caroline."
He added: "It was a tough trip and demanded a great deal of effort and team work. I didn't fall off once. We left that to grandpa."
APS were making the donation not only in memory of Ollie's aunty Caroline but also a former pupil who left last year only to lose his life to a brain tumour months later.
APS Headmaster Andrew Potts said: "Everyone at APS; pupils, their parents and staff alike applauds Ollie and his family for their endeavour. This is a cause close to all our hearts."
Ollie in the blue blazer is pictured with APS School Council Year 6 representative Arvi.
Ollie has now raised £6,000 for The Brain Tumour Charity, taking the family fund raising totyal to £12,000. if anyone would like to make a donation please go to Uk.virginmoneygiving.com/oliverstevenson