APS opens state of the art pre-school and reception-age centre of excellence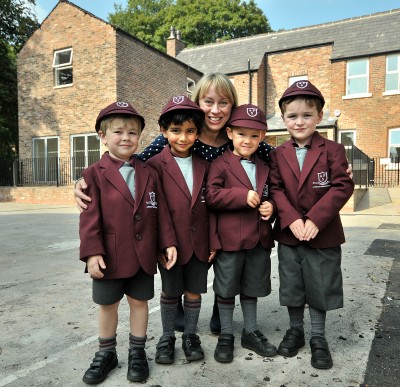 Going to school for the first time is exciting for any child and their parents, but boys at Altrincham Preparatory School had added reason to be thrilled about the new term this week - they were the first to experience the school's engaging curriculum in a brand-new centre of excellence for the Early Years Foundation Stage at Bank Place.

Adjacent to APS' Infant School at Highbury and sharing the same playground and private walled park for outdoor learning, Bank Place has been extensively refurbished and redesigned to provide a stunning, modern setting for APS' outstanding provision for pre-school and reception age boys.

"It's not often you get the chance to start with a blank sheet of paper and work out exactly how to make a school building the best possible environment for teaching boys in the 21st century," said Assistant Head Sara Makepeace-Taylor (pictured). "So I'm absolutely delighted with Bank Place - it's a wonderful, bright and airy building which really encourages and celebrates learning. The dreams we've had have become a reality and the boys are already so enthusiastic about coming here."


Looking on at one of Bank Place's brand new classrooms as the boys enjoyed a storytelling session, Altrincham Preparatory School Head Master Andrew Potts said he was thrilled with how Bank Place had already been received by parents, boys and staff alike.

"We all firmly believe in nurturing the range of specific talents boys have, and that starts at APS as soon as they come to Bank Place as three year-olds," he added. "This new building will further encourage boys to discover their passions and skills by capturing their imaginations in a vibrant, happy and healthy school."