APS Parents help break fundraising barrier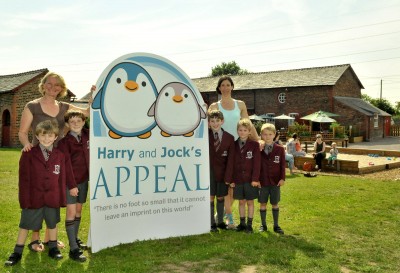 Local charity Harry and Jock's Appeal has broken through the £50,000 barrier thanks to a stunning donation from Altrincham Preparatory School parents.
APS parents donated £7,235 raised at this year's summer ball to the local fund raising appeal, which is based at the idyllic Red House Farm in Dunham Massey, after a ballot among parents to select a deserving cause.
Established in 2005 by Steph and Jonny Hewitt after the death of their day old son Harry in Wythenshawe Hospitals' neonatal unit, the charity has since made a significant contribution to equipping Wythenshawe's ante and neonatal units, buying three incubators, and now with this money two CPAP ventilators as well as many other items off the doctors' wish lists.
Mum and APS Ball Committee member Janet Grant said: "We all wanted to support a local charity and asked for nominations from our parents. Harry and Jock's Appeal then came top in our vote. We are all parents, most of us have used and very much appreciate Wythenshawe Hospital and we also come to Red House Farm to play with our children and have a coffee, so it seemed the perfect choice and we are only too delighted to be able help."
Steph Hewitt said: "We never thought we would be able to raise this much money and in truth we probably thought it would be part of our grieving process and that of our friends, who lost their baby who would have been called Jock after only 23 weeks.
"However, we are only too pleased that the charity is established now in the local community and though it isn't at the forefront of our minds we hope to be able to continue to support the work of Wythenhsawe Hospital."
Steph added: "We are absolutely blown away by the size and sheer generosity of this cheque from the mums and dads at APS. We have never had a donation this big before and it will come a great bonus to the doctors who put in their requests for different pieces of essential kit."
Pictured with Janet Grant (left) and Steph Hewitt (right) are from left to right APS boys: Carter, Felix, Charlie, Tom and William.