APS Pupils Become Pizza Experts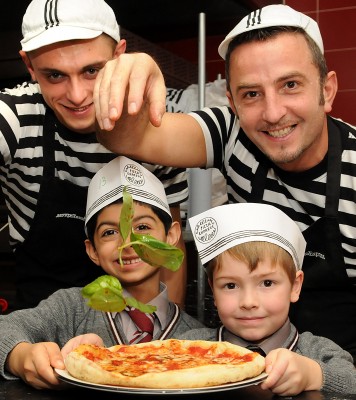 Altrincham Preparatory School pupils enjoyed a school trip to top the lot when they learned the ancient art of making the perfect pizza.
Hale Pizza Express Manager Massimo Vismara showed the boys how to make a classic Neapolitan pizza and gave them a few tips on top quality customer service.
Thought to be originally made from Buffalo Mozzarella, reared in the Bay of Naples and plum tomatoes grown on the volcanic plains of Vesuvius, Pizza is now the world's favourite fast food. Massimo said: "The secret of making a good pizza begins the night before when you take the dough out of the freezer. The next day when you prepare the dish you only have a 20 minute window when the dough is perfect for cooking."
He added: "At the moment the current favourite for the taste buds in Hale is our chicken pizza Pollo ad Astra, but the perennial best seller is the American with the pepperoni."
He added: "We really enjoy the school visits, though I am not so sure that we would normally end up with so much flour on the floor, during normal working hours."
APS Teacher Mrs Wardle said: "This trip provided the perfect opportunity for 'hands on' learning and linked into their science classes on healthy eating."
Chef Martin Wedkowski (left) is pictured with Massimo Vismara and young APS chefs Aryian and Sam aged 6.