APS start football season in style with Championship victory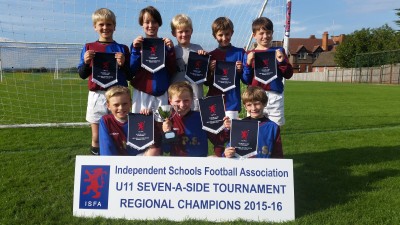 Altrincham Preparatory School are on their way to the brand-new home of football Association after a magnificent performance in the Midlands U11 Seven-A-Side Championship saw the boys qualify for Independent Schools Football Association National Finals next May.
The team, comprising both year 5 and 6 boys, were on unstoppable form, scoring 20 goals and conceding just one on their route through the group and knockout stages at Repton School. And after scoring an early penalty against Old Hall in the final, APS ran out 2-0 winners, the ISFA match report marvelling at their 'slick' play.
The boys will now spend the school year preparing for the National Finals at St George's Park in May, the £105m training base for England's national teams. They may even come across England players such as Joe Hart or Wayne Rooney preparing for the European Championships next summer.
"To go to where England train for the National Finals is just amazing," said Year 6's Rory. "The competition got really tough by the time we reached the quarter finals, so getting to the final and winning it felt like nothing else."
"We'd played Old Hall in the group stages, but by the final they'd really improved, so we knew we would have to be at our best," added Year 5's Lucas. "But we passed it really well and most importantly played as a team," said Will, who was tripped for the penalty that led to the APS victory. "So all the things we learn to do at school came off."
"The passing was really important," agreed Rory. "We want to be a team like Barcelona who can pass the ball around the back."
And that style of football impressed Head of PE, Nigel Birch. "It was good to play from schools from a different region and the boys were able to play their excellent football on the superb Repton pitches," he said. "I'm delighted for them."