VIDEO: APS to celebrate the value of silence on World Book Day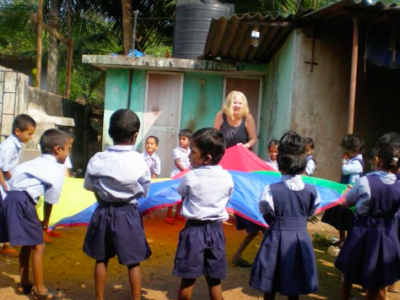 World Book Day is usually a chance for boys at Altrincham Preparatory School to dress up and have fun as their favourite story-book character. This year, however, they'll be attempting a far more difficult feat: sustained silent reading to help children less fortunate than themselves in Goa. 


The sponsored silent read is part of the school's fruitful involvement with the Don Bosco schools in Goa, which sees disadvantaged children and teachers benefit from the knowledge and expertise of APS staff, helping APS boys learn about children from other countries and cultures. As part of the friendship between APS and Don Bosco, Sneha, a teacher from one of the Don Bosco schools, will also be coming to APS - visa permitting - to spend time observing and absorbing APS' practice in teaching early reading and English.

"The whole school, from from Nursery to Year 6, will be taking part in our sustained silent reading for varying periods of time," explains Assistant Head Mrs Bacon, who regularly visits the Don Bosco schools. "It's really exciting because we hope to raise money to buy reading books for these two wonderful schools. Through the workshops and visits the teaching staff now have the knowledge but need the resources to put in practice what they've learned
."
World Book Day at APS will still involve a range of fun book-related activities during the day - including Year 6 reading to Reception, and creative work based on favourite story books. And staff, boys, parents and governors have also been involved in creating resources for the schools in Goa to support the teaching of early maths through story books. Through one of Mrs Bacon's workshops about using story books as starting points, the teachers in Goa were really excited about implementing these ideas, and the resources and books will be packed up and go to Goa with Mrs Bacon in March.
And the involvement of APS boys in the resource project confirms that the link with the Don Bosco schools is a valuable, two-way learning experience. "Our boys are used to flicking a switch and the light going on, going to an indoor bathroom and and having running water," says Mrs Bacon. "But many of the children at the Don Bosco schools live in one room within the slum areas. They are deprived by circumstance and many of their parents are uneducated - which is where Don Bosco comes in.
"These children just want to learn. It's wonderful to see. So our link with the Don Bosco schools is as much about developing our own understanding and empathy and encouraging our boys to realise that while these children are not as fortunate, they are just the same and that we can help make a difference."
The activities on World Book Day also fit neatly with APS' proud culture of engagement and participation, where boys can feel part of a wider group effort to make a real difference to communities around the world. And as an incentive, Mrs Bacon says that whatever the total the boys manage to raise through their silent reading will be matched by a kind donor. "It doesn't get better than that, does it?" she smiles. "We can all make such a difference on just one day."
Video