APS win Kwik Cricket Festival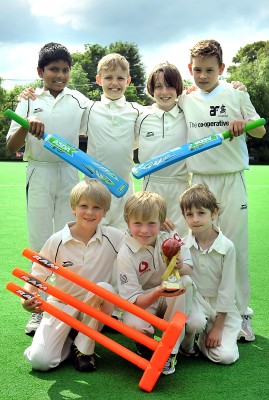 Altrincham Preparatory School won the fourth annual Independent Association of Preparatory School's Kwik Cricket Festival with some power hitting and disciplined out cricket.
12 teams from top preparatory schools across the region enjoyed a glorious day on a picture perfect Bowdon Cricket Club ground, with local favourites APS easing through their group with wins against Rydal, The Ryleys and Pownall Hall.
The under-9 tyros then beat Stockport Grammar 139 to 120 in the quarter final, before beating local rivals St. Ambrose Preparatory School 138 to 103 in a one-sdied final.
APS Head of Physical Education Nigel Birch, who organised the event, said: "The IAPS Kwik Cricket Festival is all about firing enthusiasm for this fantastic sport and allowing the boys to develop their instinct for free hitting, intelligent bowling and athletic out cricket."
Mr Birch added, 'All APS boys enjoy having the freedom of Bowdon's beautifully manicured grounds every week for their games lessons so it was a pleasure to see lots of other children having that opportunity.'
Pictured from left to right on the back row are elegant stroke player Sidarth, lynchpin batsman Ben, mean medium pacer Michael and talismanic all rounder Harvey. On the front row are seam and swing merchant Rory, explosive wicket-keeper batsman Bobby and young cricketing technician Will.