BBC Breakfast's Bill Turnbull's Speech Night Message to Y6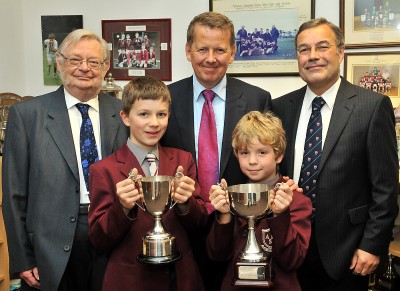 BBC Breakfast anchorman Bill Turnbull told school levers at Altrincham Preparatory School not to be "too worried about the big boys at your next school."
The much travelled broadcaster, who has recently relocated to the North-West with his wife and three children, was the guest speaker at APS's annual Speech Night
He said: "Don't worry about the big boys at your next school. They were the little boys once and we all remember how that feels "
A natural communicator, Bill had a humorous but serious purpose, adding: "You must make full use of each and every opportunity that will come your way inside and outside the classroom. You must work your hardest because hard work reaps its own rewards in so many different ways and please remember to thank your parents; once would be nice but twice would be better.."
The event also marked 30 years as Chairman of Governors for Professor Robin Hill, a former pupil and top Salford University scientist, who has overseen APS's expansion into the North-West's largest boys' preparatory school.
Professor Hill said: " I am proud to serve the school. My father was one of the founders in 1936 and I soon joined the school as a pupil. Since then APS has been very close to my heart and it remains so today."
APS Headmaster Andrew Potts said: '"The standing and esteem this school is held in, not only locally but nationally as well, is testimony to the effectiveness of Professor Hill's life's work on its behalf."