Best-selling children's author Tom Palmer visits APS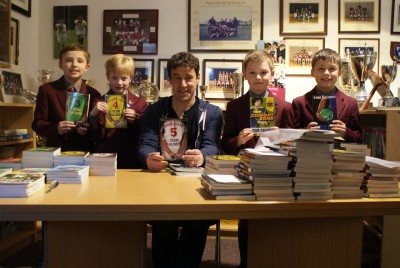 The hugely popular children's author Tom Palmer visited Altrincham Preparatory School this week - and told fans of his best-selling Football Academy, Foul Play and Rugby Academy series that sport is a great way to get into reading and writing stories.
Quizzing Year 3,4,5 and 6 boys on their favourite sports teams, stars, magazines and books, Palmer admitted that when he was at school, he found reading a struggle at first. "My Mum knew I was a massive sports fan. So she gave me match reports in newspapers to read," he explained. "Once I'd finished with them she bought me football magazines, and it wasn't long after that when I started reading books - and then I couldn't stop!"
Some of Palmer's most loved books are set in the world of rugby, and any boy who got one of his questions correct got the chance to kick for glory through some indoor rugby posts. Jack, pictured below, won the Year 6 competition. "Really, these sessions about asking the boys what they like to read, so without realising it, they're talking excitedly about books," said Palmer afterwards.
"My books might be set in the world of sport on the whole, but when the boys read them they're developing their imaginations and empathy with my characters - and there's an academic benefit too."
Edward, from Year 5, was excited to have one of Palmer's books, Reading The Game, signed by the author himself. "There's lots of interesting things about football in it, but what I really like about his books is that they tell a proper story with good language," he said. "It's been really good to meet him and ask questions about his books."
Assistant Head Andrew Sheppeck was similarly delighted that Palmer had taken the time out from his busy writing schedule to come to APS. "Anything that gets the boys excited about reading is incredibly valuable, and they do really enjoy Tom Palmer's books. So to have him in school is fantastic for them, and hopefully encourages them in their reading journeys."
Image Gallery