Christmas Jumper Day raises funds for Save The Children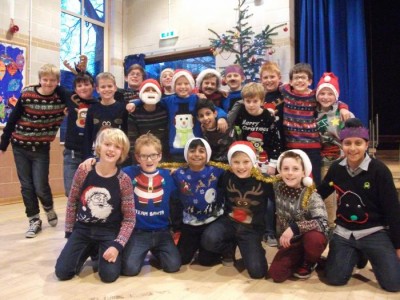 Rudolph, Santa Claus and Frosty The Snowman were the order of the day on Thursday as Altrincham Preparatory School held a Christmas Jumper Day in aid of Save The Children.
The chance to dress up in festive sweaters took on added significance for the boys as it was their School Council that had proposed the day and the charity. Sam, one of the Year 6 representatives, was delighted that they had raised £467.35 in just 24 hours.
"There are children in West Africa needing treatment for ebola, children in the Philippines who have no school to go to because of the typhoons, and children in the UK who are in need, too," he said. "So the School Council quickly thought we could do something about this and it's great to see everyone making a donation so they could come into school in their Christmas jumpers. Even the teachers joined in!"
"We certainly did!" added APS Deputy Head and Year 6 teacher Lindsay McKenna. "It's a bit of fun, of course, but there's also a serious message here about thinking of others at Christmas. As staff, we've been really impressed that the boys from every year group who make up the School Council came up with this idea and we were delighted to get behind it. They should be very proud that they've raised so much money for such a good cause."
Image Gallery