Darren Fletcher donates new kits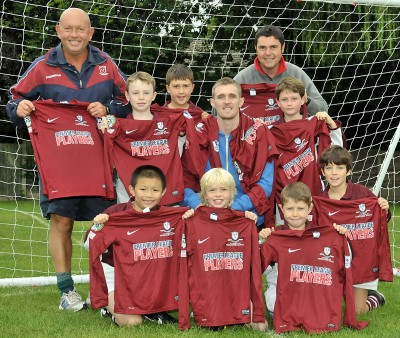 Manchester United midfield maestro Darren Fletcher has donated a full set of football kits to Altrincham Preparatory School.
Darren donated the strips as part of a Premier League Players' initiative to back grass roots football.
In which every first team squad player in the Premier League donates £500 to supply the kit to a team of their choice.
Darren said: "Last year I dontaed my kit to my old school Dalkeith High in Scotland, but this year I thought it only right I should look closer to my current home."
He added: "The scheme has universal backing among Premier League players and I was personally thrilled to see the delight on the boys' faces at APS, when I presented their kit."
Each kit is emblazoned with the Premier League Players' sponsorship and each individual footballer's name who has donated the kit on the sleeve.
APS Head of Physical Education, Nigel Birch (left), who is pictured with fellow sports coach Andrew Lingley with Darren and the boys, said: "I hope some of Darren's silky skills rub off on our boys and that they develop the same level of dedication that has seen him captain Scotland and play a key role in one of the world's greatest team's engine rooms."