DVD Sale Raises over £300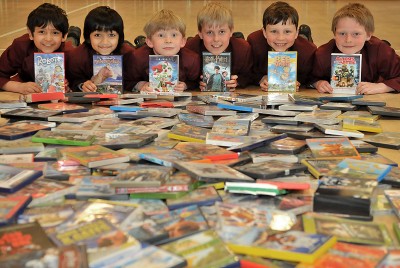 Altrincham Preparatory School film fans have donated their treasured DVDs to help raise money for 'Cash for Kids'.
The idea was the brain wave of nine-year-old Andrew who heard the radio appeal when he was travelling into school with his mum one morning.
Andrew said: "I listened to what a very unhappy Mum was saying about caring for her sick child and simply thought I have to do something to help, so I suggested to our Headmaster Mr Potts that we had a sale of DVDs."
Andrew added: "My friends on the School Council then got involved and all of a sudden we had lots of DVDs flooding into school." This year's appeal is to help ransfprm a concrete wasteland into a green oasis of calm at Starlight Children's Outpatient Department at Wythenshawe Hospital.
APS School Council Coordinator Lindsay McKenna said: "This is exactly the sort of project we want the School Council to take ownership of. The boys wrote the letter to all our parents and they organised and ran the event. It was Andrew's idea and his friends helped him to make it come true."
The DVD sale raised over £300 with a reported run on old Harry Potter movies. Andrew, 9, from Knutsford, added: "It's great to see an idea turn into something really useful and now we can all watch some new films as well."