Full Press Release - APS Expands with Bank Place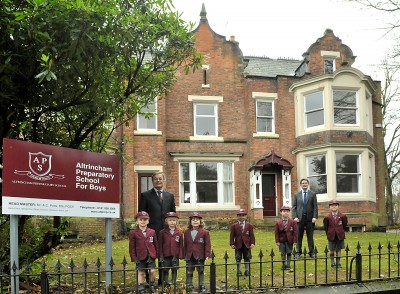 Altrincham Preparatory School has announced a £1.3M+ improvement plan with the purchase of Bank Place, the building that formerly housed Bowdon Preparatory School on Stamford Road.
One of the North West's largest and most successful all-boys independent preparatory schools, Altrincham Preparatory School plans to create a Centre of Excellence for the Early Years Foundation Stage in the 20 room Victorian house, which is adjacent to their existing Infant school at the Highbury Building on West Road in Bowdon.
Included in the plans will be the relocation of the existing Pre-School from Marlborough Road to Bank Place. This will allow for a proposed Science Laboratory and further Music and Drama facilities at the site of the Junior school.
In addition, the School have announced an expansion of playground facilities at Highbury and Bank Place with exclusive school day access to the Bell Field, a 2000 sq metre garden, recreation space and sports play surface adjacent to the two school buildings.
Work has been completed to allow Highbury boys safe access on to the land and it is already in use for PE lessons as well as lunchtime play and breaks.
Headmaster Andrew Potts said: "APS has been actively looking for the opportunity to increase our available space so that we can continue to sustain and further the outstanding quality of our teaching, learning and achievement, breadth of curriculum and the excellent quality of our facilities both inside and outside the classroom. This is a wonderful opportunity to create an EYFS Centre of Excellence and confirm our status as one of the country's leading practitioners in boys' education."
APS Governor Andrew Hill said: "This has been a project that has taken more than ten months to bring to completion. I am both delighted and excited at the opportunities this will provide for APS Boys. Bank Place in Bowdon is an architectural treasure. We will be careful to preserve the character of the building while ensuring that it retains the same function that it has provided to the community for so many decades. "