Great Britain call-up for APS gymnast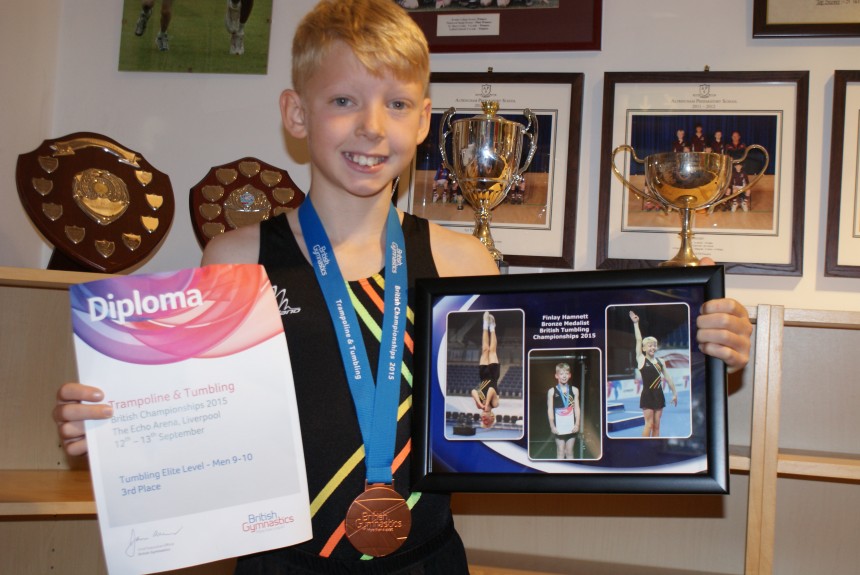 An Altrincham Preparatory School boy has been called up to represent Great Britain in the European Gymnastics Championships after springing into third place in the Trampoline & Tumbling British Championships earlier this month.

Finlay, in Year 6 at APS, will fly out to Portugal to compete against the continent's best young gymnasts in the Tumbling discipline after his medal-winning display in Liverpool. And he is excited to be representing his country.

"My best move currently is six whips with a full twist at the end - where you rotate 360 degrees in the air - and after qualifying for the finals on the Sunday in Liverpool I knew I needed a good score. It's not a really hard move, but it wasn't easy either - so I was so excited to get on the podium and then get selected for Great Britain. I can't wait to get the GB tracksuit and put it on, that will be a great moment."

Finlay is under no illusions about how difficult the task will be in Portugal - he will take part in the U13 age group, so there will be boys with significantly more competition experience than him. "But I'm hopeful we'll do well as a team," he said. "I'm learning the double tuck - where you do two summersaults in the air at the end of a run - so hopefully I may be able to use that in the competition. At the moment I'm training four times a week in Wakefield as well as practicing at home on my trampoline and doing some gymnastics at school."

Head of PE Nigel Birch is delighted that an APS boy will represent Great Britain next month. "We really do nurture a culture of participation here, in whatever sport that might be. Finlay's achievements are outstanding and - as those long trips to Wakefield prove - are down to hard work and dedication, attributes we encourage in all the boys. We'll look forward to Finlay coming back from Portugal and showing us all the Great Britain kit.