Harvest Assembly helps feed needy at Christmas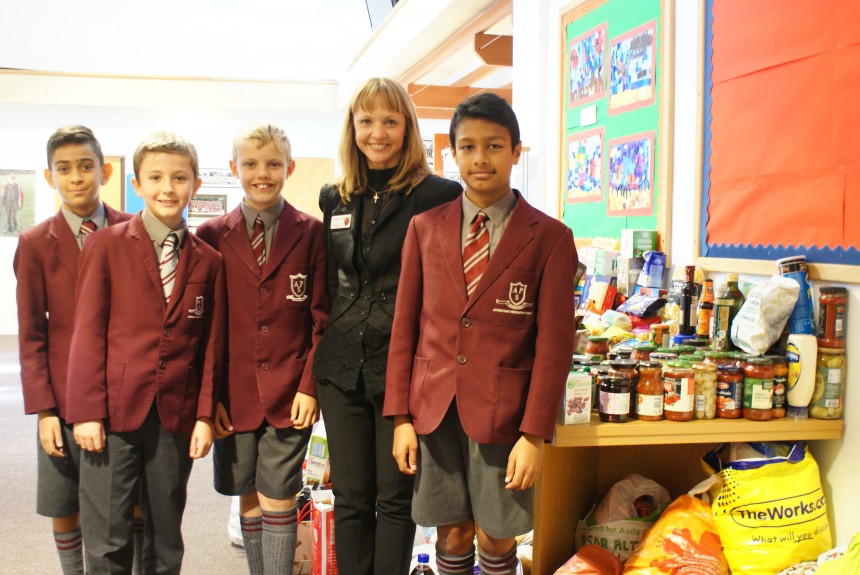 Altrincham Preparatory School came together last week "as one big family" - as Ted from Year 6 put it - to celebrate harvest in a special assembly, and to support the vital work of Manchester's Wood Street Mission.
As the boys sung and read harvest-themed songs and poems, they remembered all the people who had got the food onto their plates - and thought about those who will not have enough in the lead-up to Christmas. "It's terrible that some people are trapped in poverty," said Year 6's Bilal afterwards. "So this collection of food that that the whole school has been involved in will be for people who really need it."
Kirsten Wood, Schools Ministry for St Mary's with St Luke's in Bowdon, spoke to the boys during the assembly. She was really impressed not just with their performances, but their attitude to people less fortunate than themselves. 

"You can see how much they've thought about harvest just by the wonderful collection of food we have here for Wood Street Mission," she said. "It's important for the boys to think about where their food comes from, too, and it was really good to talk to them about harvest. I hope I also made them think about faith - whatever faith that might be."
Mrs Wood also praised the work of the Wood Street Mission. "We also work with them at St Mary's," she said. "It fantastic that it's a local charity - you know that these donations will go to the people who need it most".
Wood Street Mission's Christmas Project provided for over 4,000 Manchester and Salford children last year, and Operations Manager Des Lynch said would be incredibly difficult to operate without the generosity of schools such as APS.
"If you walk just 20 minutes in any direction from central Manchester you will see some areas of real poverty, and it's really good to know that the boys at Altrincham Preparatory School understand that by collecting food in this way, they are helping children like themselves who are less fortunate," he said. "This donation is very much appreciated, and it'll help the basic needs of at least 50 families at a very difficult time."
Image Gallery