Olympic Gold Medalist Jason Kenny OBE inspires APS boys at Speech Night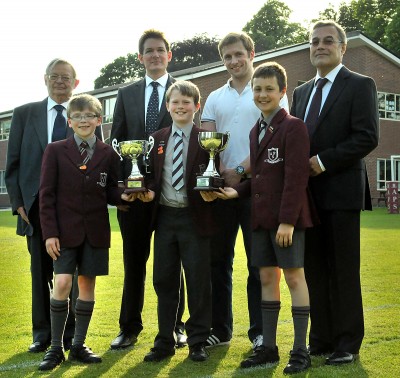 Amazingly modest triple Olympic gold medallist Jason Kenny told aspiring champions at Altrincham Preparatory School that becoming a world champion was not as difficult as they might imagine.
Presenting the prizes at APS's annual Speech Night, Jason said: "First and foremost you have got to enjoy your sport. I tried a bit of football and a bit of tennis but really started to specialise in cycling when I was about 11, the same age as many of you here tonight.
"Go and find a club. Here in Greater Manchester we are blessed with some fantastic clubs for just about any sport you can ever imagine and actually it's not as expensive or as diffcult as you might think.
"I sort of drifted into sport as a career. It was when I was taking my A Levels, that I really started to believe and now of course it is my life.
"But it's not as difficult as you might imagine. The training is just part of my life now. It's what I do. I suppose it is the commitment to the sport, the diet, the lifestyle and believe it or not the rest that is the most important part of my life as a cyclist. You never see a cyclist standing up when they could be lying down. But just have a go, you will get better and better at whatever you do, so long as you give it your best."
One of Britain's greatest ever Olympians with three gold medals competing at both Beijing and London, Jason said he was not satisfied with what he had achieved. "Obviously I hope to do better and my next goal is the World Championships. I have only got two world titles and they come around every year, whereas I have three Olympic golds so I really should have done better."
Jason is pictured with Chair of Governors Arthur Hill, Governor Andrew Hill and Headmaster Andrew Potts.
In front are three of the APS's young cyclists and prize winners, Oliver, Joe and Nikesh. Nikesh, 11, from Bowdon, who trains in the velodrome and thinks nothing of cycling from his home to Alderley Edge and back with his dad, said: "Jason Kenny is the best sprinter in Britain and if he is the best in Britain then he is the best in the world. That's how good we are at cycling."
Headmaster Andrew Potts said: "Jason is an amazingly modest young man who captured the attention of our boys. He is clearly not satisfied with three Olympic gold medals and two world titles and I am sure will go on to even greater success in the future."