Mathematics equals success for Altrincham Preparatory School boys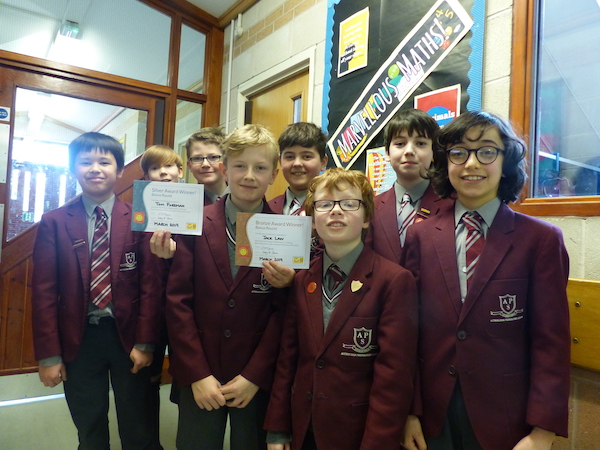 Altrincham Preparatory School's efforts in two prestigious mathematics competitions added up to spectacular results this week as eight Year Six boys won medals in the Primary Mathematics Challenge. Meanwhile, APS was ranked an incredible 12th in the global March Mathletics Challenge, an online initiative which involves Years 1 to 5 testing out their mathematics skills against other children from schools across the world.
"We have to be proud of what the boys have achieved, how important mathematics is to them and how they enjoy the challenge of these competitions," said APS Deputy Head Mrs McKenna. "There's an eagerness to engage in maths throughout the whole school, across the curriculum and in the boys' own personal time. It's great to see."
The medals in the Primary Mathematics Challenge, an exciting competition encouraging logical reasoning and aimed at pupils in Years 5 and 6, were particularly impressive given out of 66,000 entries only two per cent were awarded Bronze, Silver or Gold certification.
"The questions got trickier and trickier," said Tom from Year 6. "We only had 45 minutes to complete the 25 questions and you weren't allowed to do any working out."
"That's only 1 minute 48 seconds per question," added Joe, quickly working it out.
Year 5 teacher Mr Tagg was equally impressed with the attitude of the whole school to Mathletics, particularly as the challenges had to be completed at home rather than during the school day. Taking the average score of every boy registered, the amount of correct answers shot APS up the worldwide leaderboard to 12th.
"Tens of thousands of schools entered," explained Mr Tagg. "So this is a genuinely incredible result - we were also sixth in the UK. We've done so well, the teachers have encouraged them to take part, and of course the boys loved the competition. A lot of the boys excel at maths here, but everyone wanted to do their best and be part of a team which could achieve something remarkable."

As Year 6's Johnny said: "Literally everything is maths. I think we all know how important maths is to our lives now and in the future - and we love having to work out problems for ourselves."