Mrs Eyley celebrates 30 years at APS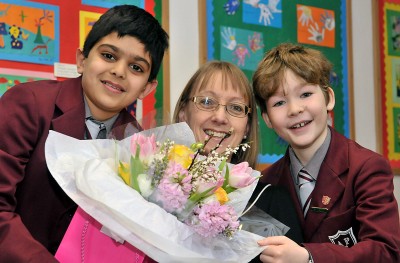 Altrincham Preparatory School dedicated a special day to celebrating the work of one of their favourite teachers Gill Eyley who has passed the 30 year milestone as a teacher at the same school.
The teachers and pupils held a surprise assembly recalling all the magical moments that have made Mrs Eyley such a loved and respected member of staff.
Gill, from Timperley who herself has two children said: "I have always taught in the Infant section, working with Years 1 and 2 but am still learning. Each year offers new challenges. The days of chalk and blackboards are a distant memory and although the internet has provided information at our finger tips, I still enjoy browsing in libraries and collecting all sorts of items for school use. As History Coordinator, I often find myself in antique shops or car boot sales looking for washboards or similar items to make the lessons more fun."
She added: "I have had many highlights over the years including: Living History trips at Tatton and Dunham when we all dressed up as Victorian servants and the recent Diamond Jubilee celebrations, when all of the Infant section joined together for a picnic.
"Working in a school offers such variety and each September I look forward to my new class and the opportunities which lie ahead. The boys are still as inquisitive, polite and as fun to be with as they were at the start of my time at APS.'
Gill concluded: "The Assembly was a great surprise and I was very touched by all that was said. I had been told to expect an assembly on the Chinese New Year and even came in my Chinese top. I would like to thank everyone for arranging such a lovely surprise."
Headmaster Andrew Potts, who told the boys that Mrs Eyley had spent 55.56% of her life as a teacher at APS, said: "Gill Eyley is a model teacher, enthusiastic, dedicated and attentive to each individual boy. It was clear to hear from the boys' testimonies that she is much appreciated by those who matter the most – her pupils."
Gill Eyley is pictured with Joe and Hasan.
Hassan, 10, said: "Even though I left Mrs Eyley's class four years ago, I still miss her." While Joe added: "Even after I left Mrs Eyley's class I would go back to help hand out books to her new children, I missed her so much."