New Treat for Grandad and Grandson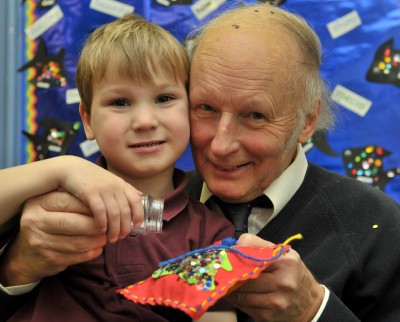 Both the young and old had their first taste of a special festive tradition when family members gathered at Altrincham Preparatory School to make their own Christmas decorations.
Grandfather David Bertenshaw (69) joined grandson Charlie (5) in APS's reception class to make tree decorations designed to last a life-time.
David admitted: "It's not just Charlie who has never made his own Christmas decorations. This is a first for me. We never did anything like this at school, but it's a great idea. Charlie and the other boys were fully engaged in their handicrafts and they were all so proud of the final creations."
Mums, dads and grandparents were invited into Altrincham Preparatory School's Infant Department to work on a one to one basis with their sons and grandsons.
As part of the special handicraft day, the Reception boys with their mums, dads and grandads also made a decoration to hang in St. Mary's Church Bowdon.
APS EYFS Coordinator Sara Makepeace-Taylor said: "Educating a young child is a team effort and the partnership between home and school is absolutely vital. We enjoyed a wonderful afternoon together with over 30 family members coming into school and helping us to get into the Christmas spirit. You can buy tinsel, you can buy cards, but you can't buy the love that goes into making your own Christmas decoration."