Oscar is 200m Champion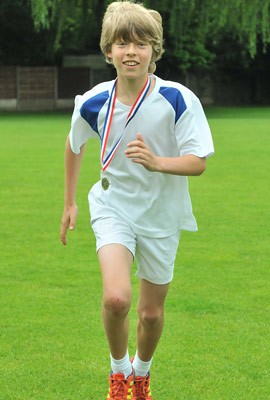 The Timperley tornado Oscar has won the 200 metres Independent Association of Preparatory Schools national championships at 200 metres.
The Altrincham Preparatory School pupil captained his school team when APS won the South Manchester Schools' titles, thereby qualifying to represent the North-West in the IAPS championships in Birmingham, a week before the Olympic trials took place in the same venue.
A member of Altrincham Athletics Club, Oscar, 11, rom Timperley, took the title running against boys from some of the top schools nationwide including elite sporting academy Millfield.
He produced a time of 28.55 seconds, a new personal; best, using the same speed that has seen him have an outstanding season as a winger in APS's rugby team and top scoring centre forward in their football side.
Oscar trains twice a week at Altrincham AC and says his favourite athlete is Usain Bolt.
Altrincham Preparatory School Director of Sport Nigel Birch said:"Oscar is a very strong young runner. He took the race out from the start and then maintained his form in the last 50 metres to go even further away from the field. It was an impressive piece of sustained sprinting."