Personal Training Tip on Sports Relief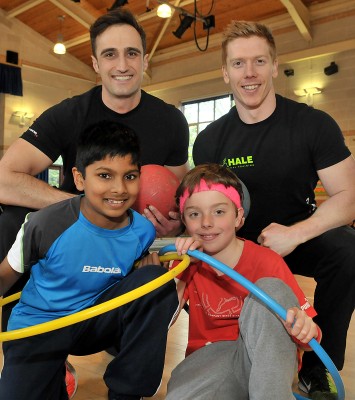 Fitness experts from Hale Personal Training spent Sports Relief Day giving a few tips on how to build a healthy body fit for purpose to the boys at Altrincham Preparatory School.
The sponsored event raised £585.80 for Sports Relief, as trainers Simon Edwards and Andrew Noutch gave the young men a few tips on conditioning and nutrition.
Simon Edwards said: "Generally the younger you are the less motivation you need and we found the boys at APS very eager to learn. However if their parents were beginning a new fitness regime I would set a specific fitness or body composition goal within an achievable time frame, say three to six months, which is exciting and something you have not done before: for example, to run the Manchester 10k for the first time under 60mins, or to get into those jeans that have not fit in years."
Simon added: "The next top tip I would recommend is to measure your progress by timing your run, or gently increasing the distance week by week towards your fitness goal, or measure your waist, hip and thighs on a monthly basis to track how your body composition is changing. However these boys don't need that, they just need to get into good habits at an early age and use all that energy to good effect."
APS Head of Physical Education Nigel Birch said: "As the boys get older they will want to do more and more physical conditioning and getting some first hand advice from the experts on what and what not to do was a wonderful way to spend Sports Relief day."
Pictured with Simon Edwards and Andrew Noutch are Sid and James.