Polar hero inspires with Speech Night Keynote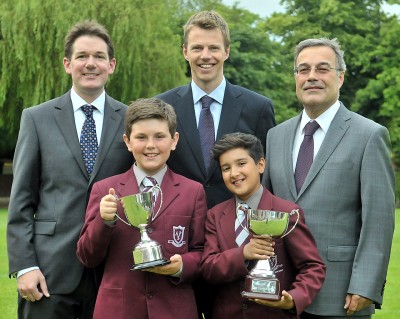 Polar explorer Tom Avery told the young adventurers at Altrincham Preparatory School 'to follow their dream."
The youngest Briton to have reached both Poles and the leader of the fastest surface journey to the North Pole, Tom was the special guest at the Marlborough Road school's annual Speech Night.
Tom said: "I do it because it's my dream and my passion. I love the snow. I love being pulled along the ice behind a dog sledge. I love climbing a polar mountain range and reaching the top to finally see what lies on the other side. I love leading teams of people with a common purpose; I love the camaraderie and the challenge. It's something I have to do and you should feel the same about whatever you choose to do."
Before giving his speech he had spent the afternoon talking to the boys at both APS's Junior and Infant departments and commented: "It was simply wonderful to realise that so many of the young boys, even those aged just six-or-seven-years-old knew of Captain Scott. He was my inspiration when I was their age and his deeds still inspire the youngest generation today."
However, Tom was also careful to talk about avoiding risk and not being gung-ho, but professional in all you do.
"I have young children and though I don't want to wrap them in cotton wool, I also want them to take every precaution. I have lost three friends in avalanches in the Alps and personally fallen down a deep crevasse which I was lucky to squirm out of, but only because I had the right equipment. The mountains are beautiful places but they are also very dangerous and must be respected. And what better place to start than here with the Pennines, The Peaks, the Lakes and Snowdonia so close."
APS Headmaster Andrew Potts, (far right) with Chairman of the Governors Andrew Hill (left), Tom Avery (centre) and prize winners Jules and Arvi, said: "Mr Avery's inspirational talk enraptured the boys and it will be interesting to see whether any of our boys pursue dreams of exploration and adventure in his footsteps."