Pupils in Goa write back to APS - VIDEO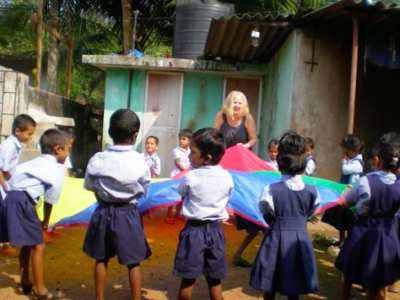 APS links with Goa are moving forward.
Following Mrs. Bacon's visit in October to provide workshops for Don Bosco Teachers in Goa on Phonics, Early Reading Development and Behaviour Management, our school has begun to strengthen our links with the children within the two Don Bosco Schools.
APS has a long tradition of support and giving to a variety of charities. The school, through the Board of Governors, have provided Mrs. Bacon with the time to provide professional development opportunities for the teachers within the Don Bosco Foundation.
The APS Society and the Board of Governors have also enabled two new class rooms to be built at Dabolim School. Their kind and generous donation has been matched by Mrs. Bacon's sponsor. Developing links internationally has been a long term aim for APS. This opportunity provides us valuable educational links as well as supporting a children who have very different life experiences to our own. These are the first tentative steps and APS and the children in Goa are looking forward to learning much more about each other's countries, traditions and culture.
Year 1 wrote letters just before Christmas to the children in Class 1 and 2. The children in Goa have responded and the Year 1 have loved reading their letters too. We find it very hard to believe that for many English is a third or even fourth language!
This short video gives a flavour of the children in their home and school environments and their responses to APS.
Video