Record-breaking adventurer Olly Hicks at APS Speech Night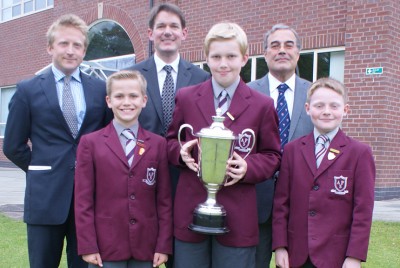 Adventurer Olly Hicks told Altrincham Preparatory School boys to "make their passion their life" as he enthraled the school's annual Speech Night with his exciting tales of rowing solo across the oceans.
And the evening had special significance for Olly, who is preparing to complete a circumnavigation of the globe in 2016, as he recalled his own Speech Night as a boy.
"I was in your position about 20 years ago," he told the Year 6 boys, 98 per cent of whom are leaving for independent or state grammar schools. "The adventurer Ranulph Fiennes came to our school as a special guest, and that completely inspired me to try and be like him."
Of course, not every APS boy will go on to break endurance records - Olly remains the youngest person to row solo across the Atlantic, a feat he achieved as a 23 year-old in 2005. But Olly was keen to stress that even if the boys didn't embark upon outlandish adventures, it would be their attitude to life which would bring them success.
"I've achieved these small feats through hard work, focus and determination," he said. "And whatever you do next, I would always say try and make your passion your life. Don't be put off by people who say obsession is strange. Obsession is dynamite."
APS Head Master Andrew Potts was delighted to welcome Mr Hicks to the school. "Olly is an inspiration because he doesn't give up. He is a fine example to our boys," he said.
Earlier in the evening, Mr Potts revealed that APS has maintained its outstanding standards this year.
"We have every right to be proud of our academic tradition," he said. "Excellence has been delivered both inside and outside the classroom, and the Year 6 boys leave us as fine young lads ready to be a part of - and serve - the society they will form."
Speech Night was formally opened by APS Chairman of Governors Andrew Hill, who told parents and boys that the evening was a reminder of how they could all work towards fantastic achievements.
"At APS we are at the forefront of education in this area, and the teachers and support staff deserve our praise and thanks for their tireless work to make the school the wonderful place it is," he said.