Video: Drumming Workshop for Years 3 and 4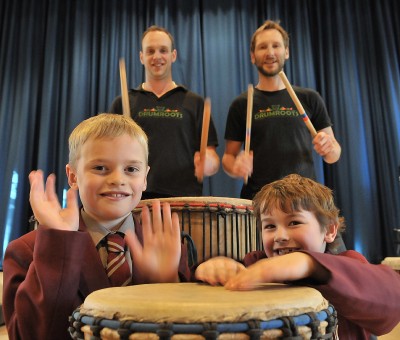 Altrincham Preparatory School boys got into the beat when they learned to play a set of West African drums on a day devoted to the rhythm of life.
The top independent school on Marlborough Road, Bowdon pulsated with the ancient rhythms of the djembe drum kits as boys learned a series of complex multi-part rhythms.
Popular in countries such as Guinea, Senegal and Sierra Leone the djembe drum was a traditional animal skin drum with different variants seen all over the world.
Run by the Manchester drumming collective Drumroots, the day not only saw skilled drummers teach basic technique and how to work in unison but also the global history of drumming.
Drumroots Director John Tullo said: "Drums are mankind's oldest and most basic instrument and have been used in celebration for 60,000 years. They are a vital part of culture and essential to ancient story telling where history was passed down in ritual and music rather than by pen and paper."
John added: "They also enabled different villages to communicate and warn each other of impending danger with their own simple but vital language. Drums now of course, are also a key part of any modern orchestra."
APS Head of Music Miss Naomi Kayayan was delighted to host the day: "It is often said that great drummers are born and not made and this experience allows boys to discover if they have natural talent for something they might never have tried."
Altrincham Preparatory Headteacher Andrew Potts, added "We are not normally too enthusiastic about excessive noise, but we were happy to make an exception for the school drumming day. It provided the boys with an exciting and fun physical, intellectual and team-working challenge."
Pictured are Lucas and Max.
Video