Waste Not Want Not - APS Science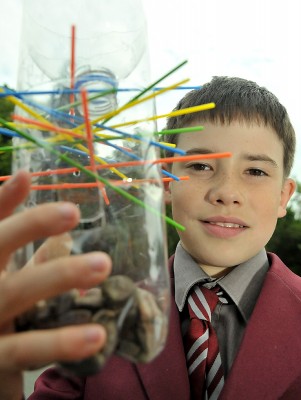 Young scientists learned that waste not want not was an essential message of modern science during Altrincham Preparatory School's annual science week.
From designing shadow puppet theatres from old old boxes or Kerplunk games from plastic bottles and stones, the aim was to make use of materials they had previously thought were good only for the rubbish bin.
APS Head of Science Andrew Lingley explained: "Making their own toys was only the start of the process. For example when the Year 4 boys designed power boats from old juice cartons and rubber bands and they took into account factors such as streamlining, air resistance and upthrust when designing their vessels."
During the week boys also examined the flora and fauna under their noses, leading children from the pre-school on a nature walk on own their school field at Marlborough Road and discovering an amazing variety of different types of leaves and mini beasts.

Pictured: Ben with his Kerplunk game