Year 3 APS boy hailed a lifesaver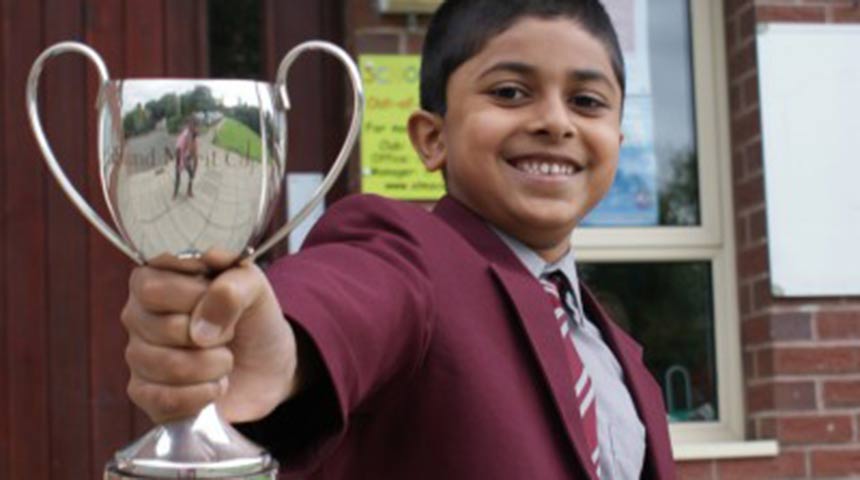 An Altrincham Preparatory School boy had a more eventful summer holiday than most - he was hailed a lifesaver after rushing to the rescue when his grandfather suffered a heart attack.
Dev, from Year 3, called for an ambulance after noticing his grandfather had fallen back and was breathing heavily.
"My mother and father are doctors so they'd taught me how to check a pulse," Dev explained. "I checked my grandfather's and it was really low, so I suspected he might have had a heart attack. So I knew I had to call an ambulance because my grandparents don't speak any English.
"At first my grandmother wasn't sure I should, because there isn't a tradition of calling for the emergency services in India. But I insisted."
And the story didn't end there. Dev, who won the Rothband Merit Cup last term for boys who epitomise the spirit of Altrincham Preparatory School, had to answer a series of questions from the emergency services to prove it wasn't a hoax call.
"They thought I was playing a prank, so I took the phone to my grandfather's mouth so they could hear him groaning and shouting. Then they wanted a postcode, so I went down to the mantelpiece and found a letter. After that, the first ambulance car was there in minutes."
The paramedics praised Dev for his quick thinking, which his parents have said almost certainly saved his grandfather's life. He's now been discharged from hospital
and, Dev says, is almost back to normal.
"Ringing an ambulance when you see someone in difficulty is the kind of thing you're always taught to do, of course, but you never think you'll need to actually do it," said Dev. "I just did what I hope anyone my age would do and I'm really proud I did."
"Dev's caring, thoughtful and mature response to such an awful turn of events is just the kind of behaviour we nurture and encourage from the boys at Altrincham Preparatory School," said Headmaster Andrew Potts. "He'd already shown what a positive influence he could be at APS by winning the Rothband Merit Cup, so he should be really proud of himself."