Year 4 Football Champions in NW Tournament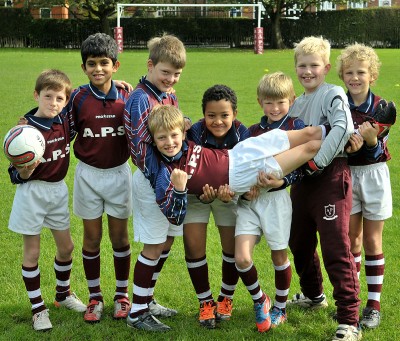 Altrincham Preparatory School lifted the Premiership Champion's Year Four North-West Preparatory Schools' Football Tournament thanks to a stunning volley from free scoring forward Luke.
With time running out against Stockport Grammar at the Platt Lane Training Complex, playmaker Charlie picked out the predatory Luke at the far post who supplied a cool, calm and collected finish. In the semi final APS had beaten Ryleys, again by the single goal with a neat low strike from Felix.
APS Director of Sport Nigel Birch said: "The Manchester City tournament attracts the top sporting schools in the North-West and is all the more important for the boys because they are playing in front of Premiership coaches at a world famous training centre. I'd like to thank Manchester City for hosing and organising the event in a highly professional and entertaining manner."
Pictured lifting up scorer Luke Finigan are from left to right: Felix, Jibril, Charlie, Seeraj, Charlie, Alex and Tom.