Year 4 Tour Air Raid Shelters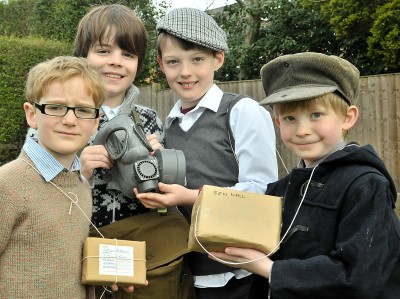 War children evacuated Altrincham Preparatory School to take a tour of Stockport's labyrinth of air raid shelters. The Year 4 children turned back time to find out what life was really like 72 years ago during the Blitz.
As part of a living history exercise, the young historians dressed up for the special visit to the mile long network of tunnels, imagining the fear and privation children, now old enough to be their great grandparents, would have felt 72 years ago.
Hewn out of the red sandstone hills on which Stockport stands, the air raid shelters were designed to keep 6,500 people safe from the Nazis bombing raids.
Fitted with electric light, wooden benches, bunk beds, a wardens' post, a first aid post and, unforgettably, 16-seater toilets, the shelters illustrated the fear and privation of their great grandparents.
APS pupil Will said: "It must have been very frightening all those years ago and I just hope the air raid sirens never sound again."
APS teacher Mr Sheppeck said: "We have been studying life on the Home Front in class and this visit cements our work on what went on back in Blighty, while the boys were fighting overseas."