Year 5 Football Team Pass Masters at Football Festival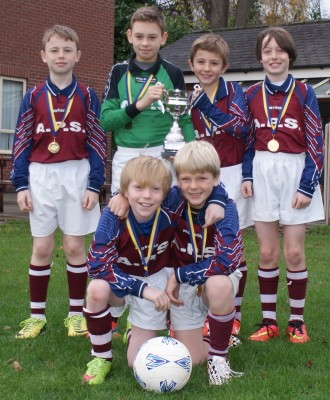 Altrincham Preparatory School's Year 5 Boys were pass-masters last weekend as their attractive brand of football won them the prestigious Formarke Hall (Midlands Prep School) U10s Football Festival in South Derbyshire.
"We all want to try and play like Bayern Munich or Real Madrid" said Bobby (pictured bottom left) as he clutched his medal, "although it was quite difficult to do that when the ball stuck in the mud!"
Despite the testing conditions, APS finished ahead of Nottingham High, Repton and The Royal Grammar School Worcester, before overcoming Birkdale School (Sheffield) in the semi-final and coasting to a 3-0 victory in the final against Old Vicarage School (Derby).
'It was a really good team feeling to win the trophy," said Finlay. And Head of PE Nigel Birch was delighted with how the boys dealt with the challenge of coming up against teams from a different part of the country.
"We know that in the Manchester area this group of boys are good, but it was fantastic for them to experience going to a completely new environment and seeing what other schools are like," he said. "So to win on top of all that was really encouraging. I'm delighted for them, and they won because of the ethics of teamwork and passing we talk about every time they go onto a football pitch."
Back row: Finley, Harvey, Ted, Michael
Front row: Bobby, Rory